What's been Happening in Jamaica
and What's New on
Jamaica-No-Problem.com
Welcome to new subscribers, and my apologies to previous subscribers for the long gap since the last newsletter.
New Aerodrome to Serve Treasure Beach and the South Coast
The brain child of Jason Henzell from Jakes Hotel and Spa in Treasure Beach, the privately owned Lionel Densham Aerodrome at near Newell in St.Elizabeth was opened by Bruce Golding the Prime Minister in December 2010.
The arduous, but scenic trip by road to Treasure Beach on Jamaica's South Coast has been reduced to a short flight for visitors arriving in either Montego bay or Kingston ... ideal for those visiting Treasure Beach.
The intention is apparently to also provide a service for visitors to Sandals Whitehouse.
But I suspect it is just a bit too far for this to be to an attractive proposition for visitors coming from Montego Bay ... which is where most visitors to Sandals Whitehouse will land.
Jamaica-No-Problem continues to grow slowly
We are now getting over 100 visitors per day on a regular basis.
We are already regarded to be in the top 1% of sites on the web ... our current Alexa ranking is just over 800,000.
We are in the process of creating a Jamaica Hotel Directory.
Those who want to can get a free full page listing for their hotel, guesthouse, villa, beach cottage or any other place where visitors can stay.
So far we have attracted three listings, with more coming:
Bernadette Gabay Dyer, a Jamaican now living in Toronto, and who has authored several books, has joined Barbara Reynolds and John Maxwell as one of our featured Jamaican People.
Rudy Mantel is also featured. An American whose first glimpse of Jamaica induced him to resign his job and move to Jamaica to start Jamaica Air Taxi back in the late 50's/early 60's, became very much a part of Jamaican life when I was growing up.
Please contribute
If you have any interesting stories about Jamaica, if you know anything of interest about Jamaica, if you have any photographs, recipes, or even just comments, please take the time to add them where appropriate on the site.
It's easy to do, won't take long, and I always check to make sure that everything is OK before putting your contributions live.
Your input will always be appreciated, and will help our site to grow and become THE best website for visitors to get information on the real Jamaica.
Many thanks for subscribing to our Newsletter.
Regards, and all the best tll our next newsletter.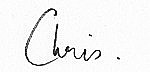 Chris Aguilar.
P.S. Are you aware that today is the first day of the rest of your life?
New!

Comments When you leave a comment about this page ... it will also appear on Facebook.