Aug 31, 2015
Jamaica Cancer Society Prostate Cancer Medical Conference 2015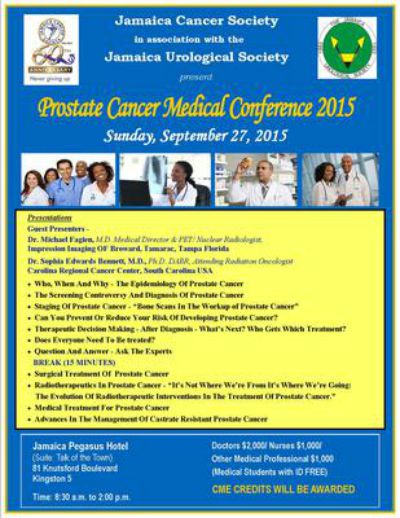 The Jamaica Cancer Society, in association with the Jamaica Urological Society, presents:
Prostate Cancer Medical Conference 2015
on Sunday, September 27, 2015
Guest Presenters are: Dr. Michael Fagien, M.D. Medical Director & PET/ Nuclear Radiologist, Impression Imaging OF Broward, Tamarac, Tampa Florida.
Dr. Sophia Edwards Bennett, M.D., Ph.D. DABR, Attending Radiation Oncologist Carolina Regional Cancer Center, South Carolina USA.
The conference will be held at the Jamaica Pegasus Hotel in the Talk of the Town Suite
81 Knutsford Boulevard, Kingston 5
Time: 8:30 a.m. to 2:00 p.m.
Doctors $2,000/ Nurses $1,000/
Other Medical Professional $1,000
Medical Students with ID FREE)
CME CREDITS WILL BE AWARDED