Bron's Tuna Cakes
by Tamika Williams
(Ahhh...Ras Natango, Camrose Village, St James, Jamaica)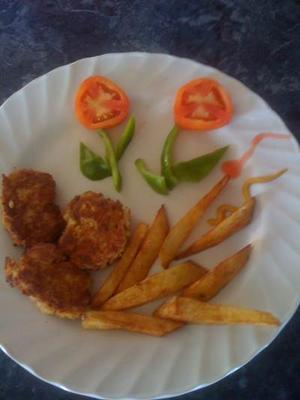 A Plate of Tuna Cakes ... with Chips
Click each image to enlarge


I have named these Tuna Cakes in honour of a very special person who loves them.

They are quick, easy to make, and delicious ... preparation time is 2-3 minites, and cooking time about the same.


Ingredients
1 six oz can tuna in water (drain completely)
1 egg
1/2 Tablesoon mustard
1/2 Tablespoon Worcestershire sauce
1/2 an onion chopped finely
2 slices of bread, broken up, but still lumpy
1/3 cup oil for frying cakes
Method
Put drained Tuna in a bowl.
Add egg, mustard, Worcestershire sauce, onions and bread crumbs.
Stir just enough to make sure egg is evenly distributed throughout the mixture. Do not over-mix.
Shape into small spoonful sized cakes.
Heat skillet with oil on a medium fire.
When the oil is hot drop cakes in oil, leaving space between each to enable flipping.
Cook each side till golden brown but do NOT burn.
Makes about 8 cakes, enough for two people. Double up the recipe for four people.
Serve with potato chips, mashed potato, bread, avocado pear, fried plantain, or ... ?
Possibilities are endless.
Fresh tuna, or any other filleted fish can be used ... make sure fish is cooked and cooled before adding egg. You can even try sardines instead of tuna.
Enjoy!!!
PS I am not a mustard person so I use less mustard. Suggest on your first attempt that you use the amount above.
Or simply serve with any mustard or even ketchup according to personal taste.