About Chris Aguilar
My name is Chris Aguilar, I am retired with time on my hands, and I have built Jamaica-No-Problem.com so that I can share my passion and love for Jamaica and her people with you.
But why do I feel this passion and love?
Jamaica is The Land of My Birth
I was born on the Ackendown property in Westmoreland ... midway between the towns of Savanna-la-mar and Black River on the south coast of Jamaica ... near a small fishing village named Whitehouse ... and about 26 miles from Negril.
Sometimes it is spelt Auchindown or Auchindoun ... Scottish ... meaning brown pastures.
Whitehouse ... once a small hardly known fishing village ... is still a small fishing village ... but is now firmly on the map of Jamaica due to the construction of the Sandals Whitehouse Resort on the Ackendown property.
An Idyllic Early Childhood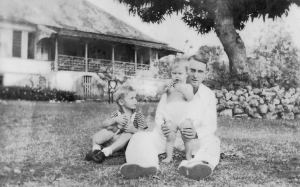 Imagine growing up in the Jamaican countryside ... looking out over the sea ... the country people as your neighbours, friends, playmates, and guardians.
Imagine being able to go outside and pick whatever fruit you want, fit and ripe straight off the tree ... mangoes, limes, oranges, ackee, guinepp, guava, avocado, sweetsop, soursop, breadfruit, naseberry, starapple, June plum, jelly coconuts and ... almost anything you wished.
Imagine waking up every morning to the sound of cows mooing, birds singing and cocks crowing.
Imagine being able to go horseback riding every morning. My first, and second to last, fall off a horse was when I was 3 years old. I broke my nose.
Imagine being able to go down to the beach whenever you want to, and having your own canoe.

My sister Sal and myself played Cowboys and Indians daily.
We won the local Golf Club's fancy dress competition as Bride and Groom.
My Dad started teaching us to drive the car and the tractor as soon as we could reach the controls.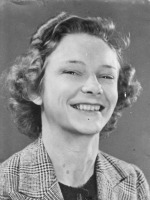 Our Mom taught us at home using something called Calvert Home School. My sister and I used to love getting little red stars when we did well.
But we not only had very special parents to teach us what life was all about ... the meaning of honesty and integrity ... we had a lot of other very special people as well.

Fanny, our nanny ... we adored her. I remember us taking her to the morgue in the back of our car when I was about age 8.
Then there was Miss Joan ... again we adored her.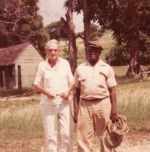 My Dad with Clarence "No Nonsense" Lawson, our property Headman, and the only person I can remember ever holding that job. What a Gentleman!!!
Austin, Zippora, Ivan, Vinette, Joe, Francis, Carlton, Miss B., ... the list could go on endlessly.
Each in his or her own way a part of the family.
And Then There Was School
I was age 7 when I first went to school ... Mount Olivet, a boarding school near Malvern in St Elizabeth.
And then Munro College at age 9. Also near Malvern, and situated at the highest point in the Santa Cruz Mountains in St Elizabeth. "In Arce Sitam Quis Occultabit" ... "A City Built on a Hill Cannot Be Hid".
At Munro there was a cross section of people from all walks of life ... teachers who didn't hesitate to instil discipline ... a sharp rap on the knuckles with their heavy rulers ... a headmaster whose cane was kept very handy ... I felt it many times.
Rough, tough and what an education ... the school, my fellow students, the teachers all fondly etched in my memory.
We used to steal out in the middle of the night and go down to the shops by the school gate to have a "Midnight Feast" ... tinned "Bully Beef" and crackers with Pickapepper sauce.
Where else could a bunch of kids wake up a shopkeeper in the middle of the night, and if the teachers came looking for us he hid us until they had gone.
There was Laddie who used to make our Gigs (Tops) for us, handmade wooden Gigs, and works of art.
How could I not love this island and all of these unique people who helped shape my life.
And Since Those Early Days
Wherever I have been in Jamaica, I have always given respect, and have been given the same respect in return ...
from the supposedly worst parts of Kingston to the remotest parts of the Jamaican hills and countryside ... from the East to the West ... from the North to the South
by the caddies on our golf courses ... by the hundreds of workers in different businesses I have been involved with
by the small farmers all over the island when buying all sorts of agricultural produce ... yam, sweet potato, dasheen, avocado, coconuts, thyme, scotch bonnet, mangoes
throughout all the hills and mountains around Balaclava, Christiana, Santa Cruz ... in the Cockpit Country ... and on the Pedro plains
in almost every parish of Jamaica ... Trelawny, St Ann, St Mary, St Thomas, St Elizabeth, Manchester, Westmoreland, St James, Hanover
regularly buying from the Maroons in Accompong
and always carrying a lot of cash to pay for the produce

No army, No weapons for protection ... and never once feeling threatened in any way.
And Then There was Melody Ann
Melody Ann was born, and given the names Carole Jean, in one of the poorer parts of downtown Kingston.
A true Jamaican mongrel ... never knowing who her father was.
A passing sailor? A straying Jamaican husband?
Who knows which bull jumped the fence?
She was given up for adoption at age 6 and chose the names Melody Ann.
She was brought up by caring elderly step parents and an uncle whom she adored, and who taught HER the real meaning of honesty.
But she always wanted to know who her real parents were. So shortly after I first met her we managed to trace her roots back, and we found her real mother.
A lovely person ... but a bitter sweet experience.
I kept asking her to marry me for the next 9 years ... she finally said yes, and a couple of years later we adopted her half brother's son ... now called Alex.
Sadly, she died never being able to find out who her father was. Either her mother didn't know ... or wouldn't tell. But like most mongrels ... very, very special. An honest, faithful, loving and a truly unique Jamaican ... and a fabulous 19 years of marriage.

And Then To The UK
We left Jamaica and moved to the UK for family reasons in 1995. And even now, 15 years later, I receive a regular phone call from Patsy ... who worked for us in Balaclava and became part of our family ... enquiring how Alex and I are keeping.
Where else do you find genuine people like this ... who with all the hardship and economic problems can still value friendship above all else ... and can still smile and say "No Problem Mon"?
And So To Jamaica-No-Problem.com
This website is built as a tribute to all these genuine people ... my fellow Jamaicans ... and to Melody Ann who was one of these people.
And if it can in some small way benefit our homeland and its people I will be happy ... and I know she will be too.
So "Give Thanks" As We Say In Jamaica

Thanks to my Mom and Dad ... two very special people.
Thanks to my fellow Jamaicans ... I am proud to be a Jamaican.
Thanks to a beautiful island ... Jamaica ... my home.
Thanks to my beautiful wife ... who was ... and always will be ... that very special person in my life.
Thanks to you my visitor for coming to my website ... I only hope that you find it of value in some small way ... and I hope that you will join in, and make your contribution to this site.
And last, but not least, thanks to Solo Build It and Ken Evoy for providing the means for me to build this website ... and now ... if it is to be ... it is up to me.
Check out My Solo Build It Story here.

Chris Aguilar


Chris Aguilar