Tamika and Ian Williams
From Rocky Hillside to Eco-tourism Attraction

Tamika and Ian Williams, in trying to establish their life and their home on a rocky hillside with a lovely view, were called foolish and became the laughing stock of a community, but they persevered and their hillside home has become a top eco-friendly Community Tourism Attraction - the Ahhh...Ras Natango Gallery and Garden.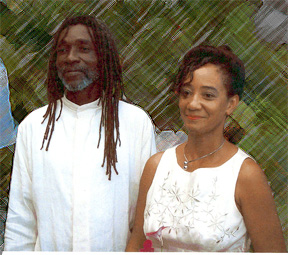 Tamika and Ian have been together since May 1977. Ayale, their son and only child, was born in July 1979.
Finally in 1981 Ian popped the question, "We have been living together for years, I love you. Will you be my wife?"
Two days later they were married in a simple ceremony with just their baby and two witnesses. 
The couple, originally from Kingston, migrated to Montego to pursue Ian's dream of being a full time artist. 
Ian became unemployable in his profession as an accountant because he chose to be a Rastafarian, and in the 1970's the dreadlocked hair style was frowned upon, especially in business circles.
Finally Their Own Home

In October 1988 Tamika and Ian Williams purchased half an acre of land in the community of Camrose near Montego Bay, solely because they liked the view. However, when they cleared the land, they discovered that it was completely covered with limestone rocks.
Tamika panicked! Her dream home had a garden with it, and there was no way a garden or anything could grow here on nothing but rocks, but Ian ever the optimist and artist calmed her by saying, "We must work with what we have."
This did not comfort Tamika as she was aware that they could not afford to clear the rocks let alone landscape it in any way.

Nevertheless, they cut a driveway to the property, and found a suitable spot to build their house on the steep hillside. 

Ian did many drawings to explain how the house would look, and would smile as this drew blank stares from Tamika, who could not see past the steep slope and rocks. 
Finally, things began taking shape as Ian spent his days supervising the workmen telling them where to dig and pack stones. Finally a foundation for the house was in.The upper floor was completed first with LONG columns holding it all in place with Ian sayng "When we make some money we will put in the other floors".

Tamika, a teacher by profession, would stop by the property each evening after work and gawk at the progress.
It took a total of three years before the Tamika and Ian could move into their home with their son, Ayale. When they did move in there was no garden, still just rocks. Ian decided to make terraces and walkways utilizing the stones.
The community and workers said it was impossible and they should bring in bulldozers and jackhammers to excavate the land, but Ian would have none of it.
The first terrace was made close to the back of the house which was used for hanging clothes to dry, then next a small one to the left side of the house. Here Ian put in a small pond for Koi and local Jamaican red eared slider turtles.

As the years went by terraces were built by hand till the entire property was accessible by foot. Tamika finally saw the vision. She started seeing rows of beds where the gardens would go. BUT they had another challenge. No soil.

Being an avid environmentalist, Tamika decided that the only thing to do was to "compost" the cuttings from the land and make their own soil. They started spreading the first set of compost close to the house, but soon learned that some plants could not survive the heat and dryness with only a little soil.

So Tamika researched and found Jamaican plants which have fibrous roots and are drought tolerant.

It seemed even nature was helping as the trees began spreading their roots in front of some of the terraces helping to hold the walkways in place, and many species of fern just appeared on the edges of the rocks, their spores blown there by the wind.

But even today, 24 years after purchasing the land, they still have some areas not yet covered by compost, and twice per year they still spread compost to new areas, and replenish existing beds.
As the years have gone by the garden has taken shape, and 18 out of Jamaica's 28 species of endemic bird can be seen here, including our national bird the Red Billed Streamertail hummingbird, commonly called the "Doctor Bird" by Jamaicans.

Although this has taken a long time, it is a part of the magic and spirit of the Ahhh...Ras Natango Gallery and Garden today.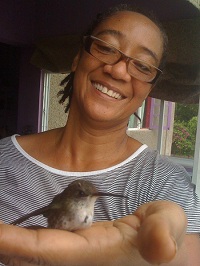 When you visit you will appreciate the time, love, dedication and patience that Tamika and Ian Williams have both put in. And now nature gives back the love in many ways.

This wild female humming bird just flew in through the open window and sat in Tamika's hand ... completely trusting, giving and accepting love. 
Wild birds just seem to know that they can trust her, because they regularly come and sit in her hand.

And you can see the "thrill" she gets every time it happens.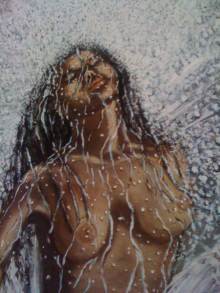 Once they moved into their home Ian was able to focus on his art while Tamika continued teaching, and carrying the family financially till her husband finally got his big break.

In 1997 he was commissined to do paintings for the Half Moon Hotel. They would take as many as he could deliver weekly. 
Half Moon is a large hotel with lots of wall space which needed to be covered, and with a positive response from their guests they just kept buying his paintings.

The approximate size of each painting is 24 inches by 32 inches, and Ian painted days and nights, delivering sometimes up to five paintings weekly.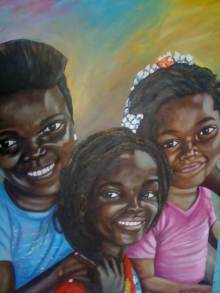 Soon their restaurants, villas, offices, rooms were all covered with Ras Natango's paintings even the Royal Pavilion where weddings are kept, was decorated with a Ras Natango Mural, 30 feet x 15 feet of a banana plantation.

Then guests began to request that they meet this local artist and see where he got his inspiration from.

The couple's home was still under construction and he (Ras as he is affectionately called) was painting in an unfinished room downstairs. But he began to transport guests to his home, and showed them his unfinished studio.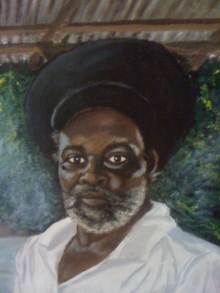 Everyone would remark about the spectacular view and garden, and no one seemed to notice that the house was incomplete.

When Half Moon ran out of walls for his paintings he still kept working as an artist because guests were then purchasing his paintings for their own homes, so he began earning foreign exchange for Jamaica through remittances for his paintings.
Hotel Riu then commissioned him to do paintings for their lobbies, and he was able to purchase Tamika her first car, construct a proper driveway and complete their home.
Tamika and Ian Williams did not set out to do make their home into a business, but their home became their business.

Their community is like most rural communities in Jamaica. No employment for the young people. It seemed a perfect fit. Living at home, operating a business, empowering the young people while giving them necessary skills.

Now Tamika was the optimist. She decided to retire from her classroom job to work fulltime in her husband's business.

"Every one will support this venture, Its perfect she chirped."

She visited, knocked every door, emailed everyone ... from the prime minister, banks, family and friends ... but every door was closed in her face.

They tried getting loans from the bank to rent shop space in Montego Bay, but the overheads were too high and no one was willing to lend them the money.

Ian just stood back and watched as Tamika tried time and time again with the same result. Finally he sat her down, and spoke these words.

"The definition of insanity is doing the same thing over and over again expecting a different result. This is our vision, our community, let's try something different.  Let's do it ourselves."
So they decided "We will just use what we have, know, and love, and we will put all our savings in".

And today, after years of perseverance and hard work, the Ahhh...Ras Natango Gallery and Garden is the jewel of Camrose.

Ahhh...Ras Natango is approved by the Jamaica Tourist Board and the TPDCO. It creates jobs for a few members of the community. Nine in total including the Tamika and Ian.

Recently having exhausted their finances, and with no other finacial backing from anyone they have had to lay off five members of staff.

But even the members of staff that lan has had to lay off eagerly turn up to work when a tour visits. They patiently wait for the business to grow.

In June 2012 the Gleaner's Hospitality Jamaica published an article by its senior reporter Janet Silvera about this bit of paradise. "Ahhh...Ras Natango - The most comprehensive attraction of its kind in Jamaica."
Ian is still optimistic that this IS the way forward, providing jobs for Jamaicans within their own community, empowering the youth while enhancing Jamaica's Tourism product.

Ahhh…Ras Natango Gallery and Garden now offers a variety of affordable activities.

So come visit, meet Tamika and Ian Williams, and their son Ayale, as they share with you Jamaica's culture, and their love for Jamaica, nature and the environment.

Two fantasy gardens are within the main Ahhh...Ras Natango Gallery and Garden. There is a gift shop, and you can enjoy authentic Jamaican food cooked while you are on the property.

Imagine having the dedication and perseverance to see your dreams go from rocky hillside, while being called foolish and being the laughing stock of a community, to becoming a top eco-friendly Community Tourism Attraction.
You can send a message to Tamika through our contact form, or you can -

phone + 1 876 578 2582

Email:

lasf009@yahoo.com
To write a review or just tell YOUR story  scroll down below the comments section.


About Tamika And Ian

Share What You Know
Share your story or knowledge and include up to 4 photos if you wish (maximum width 450 pixels).

We will review what you submit before posting it, and iF you submit 300 words or more of ORIGINAL material we will create your web page.
Less than 300 words, or if material is copied from another website, we may use what you have submitted, at our discretion, to update this page.

What Other Visitors Have Shared
Click any link below to see what information other visitors have shared ...