Jamaican Beaches
Our Jamaica Beaches are rated amongst the Caribbean's and the World's best beaches, and at the top of the list is Negril's 7 mile beach, but there are many other excellent beaches in Jamaica. Almost all our Resorts have their own top quality beach, with access usually restricted to guests, and with over 50 public beaches around the island you are spoilt for choice.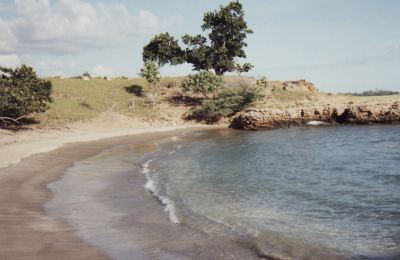 In addition there are numerous small coves ... hidden gems ... scattered right around the island, like this one in Treasure Beach. Some of these are private, some you can only get to by sea, and others are public if you know where to find them.
A lot of our beaches in Jamaica are protected by reefs, and the sea is like a pond most of the time. Others are open to the ocean with no reef to protect them, and there are constant breakers and strong tides. Always ask for and listen to advice from the locals when swimming on any beach.
A few of our beaches on the South Coast, like Alligator Pond, have black sand due to traces of iron in the sand, but most of our Jamaica beaches have white sand. The only drawback of the sand being black is that it gets very hot in the sun, and you will need to wear sandals on the beach.
Some Jamaica Beaches are very popular and crowded, others are more secluded, and you will have them more or less to yourself. You will find food stalls on most public beaches, but other facilities vary greatly.
Our best known beaches are listed below, with links to some that you should enjoy visiting.
Beaches On The West Coast
Hanover and Westmoreland
Beaches On The South Coast
Westmoreland
Bluefields Beach - a favorite beach for local residents.
Belmont Beach - location of the Peter Tosh museum and his birthplace.
Auchindown Beach - now the site of the Sandals Whitehouse Resort.
Whitehouse Beach - a very popular fishing beach.
St Elizabeth
Font Hill Beach - a nice beach popular with local residents.
Black River's Crane Road Beach
Treasure Beach - Fort Charles Bay, Billy's Bay, Frenchman's Bay, Calabash Bay, Great Pedro Bay
Manchester
Alligator Pond - black sand, a popular fishing beach, near to Treasure Beach, and home to the the very popular and fabulous Little Ochi Seafood Restaurant.

St Catherine
Hellshire Beach - the home of fry fish and very popular with Kingstonians.
St Thomas
Prospect Beach - a nice beach, and should not be too crowded.
Swimmers Bay Beach - an excellent public beach restored and modernized by St Thomas residents.
Beaches On The East Coast
Portland
Long Bay Beach - can be heavy seas as it is open to the ocean.

And Just On the North Eastern Tip of Jamaica

Boston Bay Beach - east of Port Antonio right in the home of Boston Jerk Pork.
Fairy Hill Beach - east of Port Antonio.
Frenchman's Cove - east of Port Antonio, and private but can pay to use.
Winifred Beach - secluded public beach east of Port Antonio and popular with Jamaicans.
Beaches On The North Coast
St Mary
James Bond Beach, Oracabessa - private, but can pay to use.
St Ann
Dunn's River Beach - at the mouth of Dunn's River.
Turtle Beach - in the centre of Ocho Rios with several hotels along it.
Cardiff Hall Public Beach, Runaway Bay - close to the Superclubs Resort.
Puerto Seco Beach, Discovery Bay - one of the best on the north coast.
St James
Rose Hall Beach Club, Montego Bay - pay to use.
Doctor's Cave Beach Club Montego Bay - pay to use.
Walter Fletcher Beach, Montego Bay - now the home of the Aquasol Beach and Theme Park.
Cornwall beach, Montego Bay - pay to use.
To write a review or just tell YOUR story  scroll down below the comments section.


Have YOU Enjoyed Visiting Any Other Jamaican Beaches?

Share Your Story, Your Experiences, or Your Knowledge
You will be creating YOUR OWN page on our website.

But TWO very important criteria.
Firstly, to qualify as a page it must be at least 300 words.
And secondly, please do not copy material from another website ... make it your own original story.

If you have some relevant photos, you may add up to 4.

Sadly, if you submit less than 300 words, or if what you submit is material copied from elsewhere, your submission will only be used at our discretion to update and add to this existing page.


Stories or Information Shared by Other Visitors
Click any of the links below to see what others visitors have shared ...

Swimmers Bay Beach - Jamaica
Swimmers Bay Beach in Lyssons, St Thomas, Jamaica, once a derelict public beach which had been neglected for some 30 to 40 years, is now another of our …