Attractions In Jamaica

There are so many attractions in Jamaica, so many interesting places to visit, and things to do, that you could never see and do everything in a two week holiday ... but you can sure have fun trying.
How To See The Real Jamaica
Most tourists and visitors to Jamaica, and even many Jamaicans, never get to experience the real Jamaica. They never get to see the beauty of the Jamaican countryside or experience the friendliness of Jamaican country people.
If YOU want to explore and discover the real Jamaica, we will try and provide the information you need to explore Jamaica in safety. 
Robert Kerr's Sun Venture Tours is very well established and responsible tour company running numerous tours to many attractions in Jamaica. Sun Venture Tours operates the Blue Mountain Wilderness Retreat and Camp Site.

Diana McIntyre-Pike and her Countrystyle Community Experience Tours offer personalized local tours and holiday packages, including accommodation, tailor made to suit your interests and budget.
Diana says "We will take you to villages, business places, farms, churches, schools, hospitals, roadside bars, local discos and nightclubs, flower shops, private homes and parties and more. We can do this in Jamaica, and also any where in the Caribbean.
We can take you to meet farmers, fishermen, doctors, nurses, teachers ... just regular people at work or play ... but more than willing to spend some time with you ... some of whom will become your friends and take a personal interest in introducing you to their culture, heritage, music and lifestyle.
You will meet some of the most exciting, talented, and outstanding people in the world, and experience our Jamaican culture, heritage, music, cuisine and general way of life.
And we can arrange transfers from the airports, car rentals, and buses."
We acknowledge and thank both Sun Venture and Countrystyle for the use of many photographs on this website.
Jamaican Beaches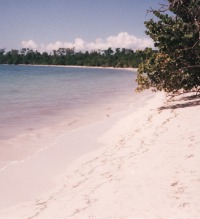 If you are a Sun Worshipper and just want to relax on a beach then Jamaica's beaches are undoubtedly going to be at the top of YOUR attractions in Jamaica. This little beach is where I grew up. Just over a mile of beach, a reef offshore to protect it, and towards its eastern end it is the home of the Sandals Whitehouse Resort.
There are over 50 public beaches around Jamaica, and most are free to use ... Negril Beach, Font Hill Beach, Treasure Beach, Winnifred Beach, Hellshire Beach, and others. 

Doctors Cave in Montego Bay, and a few others are public, but charge an entry fee. 
Go to our main page on beaches in Jamaica.
Jamaican Golf Courses
If like me you are a golf fanatic, then playing any of our 12 Jamaican golf courses is likely to be  at the top of YOUR attractions in Jamaica. We have a great selection of golf courses, all worth playing and all great golf.  For more information on our golf courses click here
Deep sea fishing ... trying to catch that elusive Blue Marlin? This has always been a must do for my visiting friends.
Most of the resort hotels in Jamaica can arrange deep sea fishing for you. Or maybe you would prefer a peaceful day in a canoe with a local fisherman ... fishing along the reefs just offshore ... or in the mangrove wetlands of Old Harbour Bay with a visit to Pidgeon Island for a swim.  Check our page on fishing in Jamaica.

Blue Mountain Peak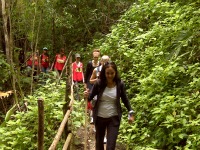 Hiking to the top of Blue Mountain Peak is exhilerating, and it is an experience not to be missed. The scenery and the views in the Blue Mountains are fantastic. You don't see much on the way up, because you usually make the journey up in the very early morning ... timed to get there just before sunrise.
The general vegetation and some of the wildlife of the Blue Mountains are unique, as is the Blue Mountain Coffee grown in these mountains.
My memories of three different climbs to the peak will stay with me always, even though I am not usually a hiker unless it's around a golf course. See our page on hikng to the peak.
See also our page on the Blue and John Crow Mountains National Park.
Snorkeling and Scuba Diving
Jamaica is surrounded by reefs, and in recent years there has been consdiderable effort made to preserve and improve the quality of our marine life. If you are a snorkeler there are many places where you can enjoy snorkeling and see colorful fish and varied marine life.
Most of our major resorts offer both snorkeling and scuba diving facilities, and although Jamaica is not known as a top diving destination you can have a look at this video with Captains Watersports to get an idea of how beautiful it is down there.
See also my snorkeling memories.
Caving in Jamaica
From those in the know, Jamaica is a "Tropical Caver's Paradise". There are over 1000 known caves in Jamaica, and probably many more not yet discovered.
I can't offer any personal experiences, but there are two excellent websites on caving in Jamaica
Horseback Riding
I grew up on the back of a horse, and if you or your kids have not tried it ... it is a lot of fun. Most resorts in Jamaica can arrange this for you. We used to take our horses and mules down to the sea and wash them down every Saturday morning. They loved it. And at some of the resorts YOU can ride the horses into the sea.
Chukka Cove, in the Ocho Rios are, is famous for its horse riding, and many other adventure activites.
Rivers and Falls in Jamaica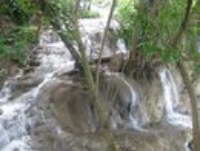 Jamaica has over 100 known rivers, many with spectacular waterfalls. Here are a few of the most popular.
Dunns River Falls near Ocho Rios in St Ann is one of the most popular attractions in Jamaica partly because of its proximity to Ocho Rios. 
This picture of Dunns River, taken at the bottom end by the beach, is by courtesy of Patricia Austin.
YS Falls near Black River in St Elizabeth, Mayfield Falls north of Savanna-la-mar in Westmoreland, and Reach Falls near Manchioneal in Portland are also very popular attractions, and worth visiting.
The Rio Grande in Portland, the Martha Brae near Falmouth in Trelawny, and the White River in Hanover offer rafting.
Or maybe you would like a boat trip up the Black River on Jamaica's south coast. I have done the Black River Safari many times, because it was always popular when friends visited from abroad. Give yourself time to have a look around the historic town of Black River, and also to visit YS falls while you are in this area.
The Cockpit Country
The Cockpit Country is one of the most fascinating and intriguing attractions in Jamaica. Most of it is completely unknown to the average Jamaican or visitor. You will have fun exploring its history, its geology, its topography and vegetation, its rivers, its caves, its birds and wildlife, and its inhabitants the Maroons.
Visit the Cockpit Country website for more information.
Jamaican Plants, Birds and Wildlife

We have many indigenous species of plant, bird and wildlife in Jamaica. And whether you are a keen birdwatcher, horticulturalist, or if your interest is in other wildlife, Jamaica has it all.
The Blue and John Crow Mountains National Park and the Cockpit Country are home to the majority of our indigenous species of plant, bird, reptile and other wildlife.
For horticulturalists, our Jamaican gardens are usually a mass of color, and we havethe Jamaican Horticultural Society, and several parish horticultural socities around the island, most of which are very active, and hold annual shows. There are also numerous Botanical Gardens around Jamaica ... Bath Botanical Gardens, Castleton, Cinchona, Coyaba River Garden, Cranbrook Flower Forest, Hope Gardens, Shaw Park Gardens and others.
And when you are in the Montego Bay area I can recommend a visit to the Ahhh...Ras Natango Gallery and Garden in Camrose, where you will be able to see many species of our birdlife, and you will enjoy their gardens with very colorful and spectular flowering plants. And as a bonus you will also meet Ras Natango who is one of Jamaica's leading artists, and be able to explore his Gallery.
Explore The Culture and History of Jamaica
Every parish in Jamaica flourishes with historical and cultural places to visit.
Port Royal and its museums
Devon House in Kingston

Bob Marley Museum in Kingston
Bob Marley's birthplace in St Ann
The Maroons in Accompong or Charles Town
Jamaican Great Houses all around the island
and many more

Just Drive Around
And get to know our beautiful island, meeting our friendly people wherever you go, or trying some of our Jamaican dishes at our popular restaurants and roadside food stalls. No matter how Jamaican your hotel food claims to be, this is where the real Jamaican food is.
Scotts Cove on the Westmoreland/St Elizabeth border

"Pepper Shrimps" at Middle Quarters
Boston Bay for the best "Jerk Pork" or "Jerk Chicken"

Port Royal for "Steam Fish"
Hellshire Beach for "Fry Fish and Festival"
and many more.
Whatever your interests, we've got attractions in Jamaica that you will enjoy.
To write a review or just tell YOUR story  scroll down below the comments section.



Which Attractions in Jamaica Have YOU Visited?
Write a Story About Your Experiences
Share your experiences, or write a review, but please ...

Firstly - your submission must be 300 words or more.
Secondly - it must be your ORIGINAL material, and must not be copied from another source and pasted here.

You can include up to 4 original photos, but please resize them to a maximum of 450 pixels wide before trying to upload them ... paint.net or picmonkey.com can be used to resize photos.


The horizontal box below will expand when you start typing, so just start by typing ...


See What Others Have Shared
Click any of the links below to see what others have said ...