Jamaican Food and Fruit

Many of our Jamaican food and fruit crops have been found to be of a very high nutritional value, surely a reason why we produce the best in the world in so many different fields.

Our atheletes superiority has been attributed to Yam by some experts.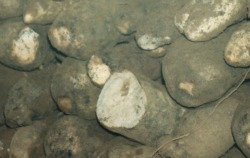 Our Jamaican food and our Jamaican diet has been thought of as being full of fat and starch ... and therefore unhealthy.
But many of these supposedly "fatty foods" such as Coconut, Avocado, and our Jamaican national fruit, the Ackee, are of plant origin.
They contain "good" unsaturated fats, or short chain saturated fats, which are good for your health, in addition to having many other nutrients and health benefits.
They are cholesterol free, and their benefits are now being promoted throughout the Natural Health World.
Cold pressed coconut oil is now supposed to be the "BEST" oil for you to use, even better than olive oil.

Our "Starchy" foods, such as the breadfruit, yam or sweet potato, may be starchy but, are much higher in fibre and other nutrients than the potato ... what we call an Irish Potato in Jamaica.
Many of our fruits, like the West Indian Cherry and the Guava, are extremely high in Vitamin C, fibre and other nutrients.
Our Soursop ... known as "Guanabana" in Spanish speaking countires, and "Graviola" in Brazil ... is reported to be 10,000 times more effective than chemotherapy in treating cancer. Surely this can not be pure fiction.

Raw Cocoa ... Cocoa that has not gone through the dutching pocess ... is now being promoted all over the world as the miracle food to cure/prevent everything, and is being sold at fancy prices.
Raw cocoa has been found in every Jamaican country market for as long as the markets have been there.
Sorrel, a member of the Hibiscus family, from which we make our popular Christmas drink ... albeit with a touch of Jamaica Rum added ... is full of nutrients.
The list could go on.
So, is it any small wonder that our Jamaicans, growing up with the benefits of these local foods and fruits, turn out to be the best in the world in so many different fields?
Please go to our Jamaica Recipes section to see how we use some of these Jamaican foods in our everyday cooking.


Jamaican Food and Fruit Crops

Below are some of the food and fruit crops grown in Jamaica.
Ackee
Avocado
Blue Mountain Coffee
Breadfruit
Citrus Crops
Lemon
Lime
Orange
Ortanique
Sour Orange
Ugli fruit
Cashew
Cocoa
Coconut
Fruit
Banana
Custard Apple
Guava
Guinep
Jackfruit
Mammee Apple
Mango
Naseberry
Paw Paw (Papaya)
Otaheite Apple
Soursop
Sweetsop
Starapple
Peanut
Rice
Root Crops(Starches)
Cassava
Coco
Dasheen
Irish Potato
Sweet Potato
Yams - Yellow, White, Negro
Yampee
Spices and Herbs
Cerasee
Ginger
Nutmeg
Pimento
Peppers (Hot)
Bird Pepper
Country Pepper
Scotch Bonnet
Scallion (Escallion, Spring Onion)
Sorrel
Thyme
Vanilla
Sugar Cane
Tobacco
Vegetables
Callaloo
Carrot
Cho Cho
Cucumber
Gungo peas
Okra
Onions
Red Peas
Sweet Pepper
String Beans
Tomato
To write a review or just tell YOUR story  scroll down below the comments section.


Our Foods and Fruit In Jamaica

Share What You Know
Share what you know that would be of interest or benefit to other visitors to our website.

If you submit 300 words or more we will create YOUR new web page.

Less than 300 words, or material copied from elsewhere, will be used at our discretion.


This Is What Others Have Shared
Click the links below to see what others have shared ...

Mongoose
Best Kept Secret in Jamaica
On Saturday the 19th of January, I was in a very unusual mood. Having eaten food from every restaurant in Ocho Rios I was at a loss regarding where …