Buckingham School Helping to Build a Positive Jamaica
by Tamika Williams
(Camrose St James)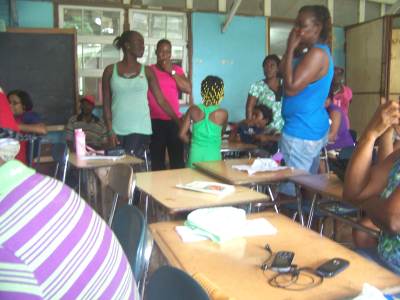 Buckingham School in Camrose Parents Conference
Click other photos to enlarge
It seems the youth of today is out of control all over the world, and this is evident in our young people here in Jamaica as well.

On Thursday September 12th 2012 the Principal and Staff of Buckingham School started the new school year by hosting a Parents Conference highlighting positive parenting in an effort to tackle this problem positively.

Greetings came from Ms. Brenda Taylor, Vice Chairman of the school board.

Ms Evadney Campbell engaged the parents in educational games showing how sexually transmitted deseases (STD) spread.
Condoms were handed out as well as literature about STD and safe sex.

The guest speaker was Ms. Marilyn, Nash Director of the Flankers Peace and Justice Center.
The presentation was so imspirational that at the end of the conference a date had to be set for her to do a workshop with the parents in November 2012.

The following were some of the tips delivered to the parents.

Be available for your children


Learn about your children's interests


Let your children know you are listening


Respond is a way your children will hear and understand


Ask your child(ren) what he/she/they may want or need from you in a conversation such as advise, simply listening
Parenting is a skill we learn as we go along but sometimes we need help in coping or dealing with coping with a situation.
The parents openly spoke about their fears, concerns and some offered suggestions in response to querries from other parents.
It was a positive feeling sitting there listening to parents openly asking for help.
The Principal Mrs Marcia Findlater-Dixon and her staff ought to feel proud of a successful Parents Conference, showing that together we can build a positive Jamaica ...
one parent, one child at a time
.