Camrose Village
by Community leader - Tamika Williams
(Camrose, St James, Jamaica)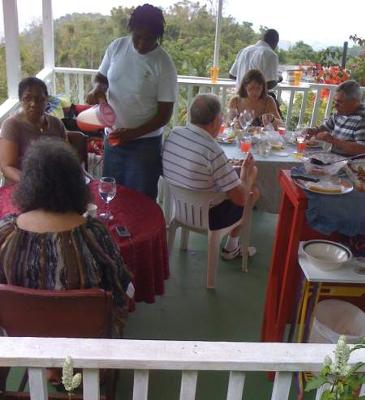 Visitors Enjoying the Cuisine at Ahhh...Ras Natango
Camrose is perched up in the hills of St James overlooking the city of Montego Bay. We are over 2000 feet above sea level. You can feel your ears pop as you ascend or descend.

We are only 20 minutes from the Sangster International Airport in Montego Bay, and 15 minutes from the cruise ship square.

The air is clean and the temperature is at least ten degrees cooler than the city below.

Our vision in this quaint community is to be a model for all of Jamaica, instilling pride as we learn to provide for ourselves.

We are one of the pilot villages in CCTN's Villages as Businesses program.

Jamaica is a unique island. Every community has something different to offer ... from rivers and waterfalls, to white and black sand beaches, rock climbing, bird watching, hiking in the mountains, caving and much more.

Camrose believes that we should appreciate what we have, and use it to our advantage. The opportunities are endless.


We have a most magnificent and panoramic view.

We are an environmentalist's paradise ... the forests surrounding our village are lush and are the habitat of many of Jamaica's endemic species of bird and plant life.

We have two schools ... the Buckingham All Age School, and an infant school. Students of Buckingham are actively involved in Community Tourism, learning and performing cultural items for visitors.

Camrose boasts the Ahhh...Ras Natango Gallery and Garden, the only community gallery and garden approved by the Jamaica tourist board.

Ahhh...Ras is a cultural experience. Paintings show-case the past and present. Elders supply information about our past. You will meet your hosts Ian and Tamika Williams, and their son Ayale, a Rastafarian family, as they share their passions and idioms.

We have a Village Bar run by Beverley Thompson, a Cook Shop by Ian Reid, a Green Grocer by Sister and her daughters, a Village Shop by Ms. Marla Thorpe, a Mini Mart by Miss Trudy, and a Nursery by Mrs Shammon Esson.


As with all rural communities across Jamaica there are challenges but Camrose has stood up and created pride amongst it's villagers.

As we look to the future, we recognize the need to upgrade all facilties and train tour guides, and as one of CCTN's pilot villages we are actively seeking funding to assist with our upgrade.


The owners of Ahhh...Ras Natango Gallery and Garden have set out to help us empower ourselves.

And we have eagerly embraced the vision of the Williams' as they have helped us to go from a community offering no kind of employment to one offering gainful employment while learning new skills.

Presently Tamika trains young girls from the community to make quality craft items for sale in the gift shop. Nine persons are employed by the gallery and there is scope for more.

Take some time to visit us. Play local games, hike in the mountains, or sit and enjoy the view while enjoying our cuisine.

Your visit will help to build our community.

Together we can, one community at a time.