Cockpit Country Adventure Tour
by Rich Fischler
( Wisconsin, USA)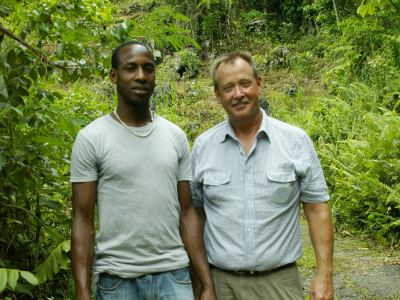 Ainsworth and Rich
Click Other Photos To Enlarge
Diana,

I would like to express my great appreciation of the the Cockpit Country Tour that you tailored to my requirements, and coordinated for me.

The walkabout and cultural experience in Albert Town was unique, unscripted, and a view into the real Jamaica.

It was fantastic.

I saw much flora and fauna and was able to take some wonderful pictures that I will cherish.

Ainsworth, my guide from Cockpit Country Adventure Tours, was very knowledgeable and readily answered questions about the plants and animals that we encountered. I especially enjoyed learning about how many of the plants were used in Jamaican daily life.

As you know, my passion is butterflies. I was especially hoping to encounter some indigenous species, and I was not disappointed! I saw numerous species I had only seen in books previously. It was a beautiful sunny day and I was able to photograph many of them in their natural habitat.

Our reception and cultural experience in Albert Town was most gracious and we were treated like family.

As a gardener myself, I very much enjoyed learning about the community garden and seeing some of the local produce grown there.

The local musicians and singers were a big surprise and they sounded great. From young to old, everyone was participating; it was refreshing to see so much community pride and spirit.

Finally, the meal of Jamaican stewed chicken was delicious. The flavors, spices, and seasoning were outstanding - something I had not previously experienced - and I would most certainly have it again!

I will definitely recommend your services to anyone looking for a unique or tailored tour in Jamaica.

This is especially true for those wishing to experience Jamaica's culture and wild beauty - the one outside of the cruise ships and the all-inclusive resorts.

Sincerely,

Rich.