Concieving, Believing and Achieving in Ahhh...Ras Natango Gallery and Garden
by Tamika Williams
(Ahhh...Ras Natango Gallery and Garden, Camrose, Montego Bay, St James)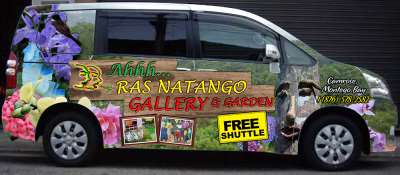 The Ahhh...Ras Toyota Noah Shuttle
Ahhh...Ras Natango Gallery and Garden's vision for ourselves and our community has materialized.

We, (Ian, Tamika and Ayale) dreamed of providing gainful employment for ourselves and our community.

There were so many obstacles, including the road becoming virtually undrivable, but at each step of the way we were provided with lifelines and so we plodded on.

Jamaica-No-Problem provided a voice when none was availabe and we are forever grateful.

Janet Silvera, senior Journalist from the Gleaner in April 2012 did the first feature in Hospitality Jamaica and this came at a time when hope seemed lost.

Another lifeline was in October when Ahhh...Ras Natango Gallery and Garden was awarded the Sam Sharpe Award for Tourism Developement within the community.

When emotional lifelines were needed Kathi Cooke and Chris (Jamaica-No-Problem) were there.

Ras Natango (Ian), a steady tower of strength, never wavered and now it has all paid off.

In November 2012 Mark and Frances Tussi, family friends for decades, took up the mantle and invested in Ahhh...Ras Natango Gallery and Garden.

The Williams' and Tuccis' were already business partners in Custom Blends Jamaica Limited.
Custom blends Jamaica Ltd is a roll your own tobacco company with it's parent company, Planet RYO, in the USA.
With a change of business name joining both businesses, Custon Blends Jamaica Ltd trading as Ahhh...Ras Natango Gallery and Garden was born.

With needed investment being provided, the attraction now owns a new asset, a Toyota Noah 8 seater, which will help the attraction to forge ahead smoothly.

Paying guests to Ahhh...Ras Natango Gallery and Garden can now call Tamika at + 1 876 578 2582 to schedule a pick-up from the airport, a hotel or a villa in and around Montego Bay AT NO ADDITIONAL COST, and be transported to the attraction in comfort and style.

The entrance fee to visit the Gallery and Garden is US$30 per person including a complimentary first drink of choice at the Juicebar, and a Jamaican meal can be ordered for an additional US$12.

A camera is an essential to capture the magnificent view, and our flora and fauna will take your breath away.

The Gallery houses the art of world famous Jamaican artist Ras Natango, his son Ayale and protege CNey.

All paintings in the gallery are for sale, and the Gift Shop boasts true Jamaican crafts made locally in the community.

We concieved, we believed, and now while working ceasesly we have achieved.

As David Miller of TPDSO (a new addtion to the Ahhh...Ras family) stated, "The strong help the weak and the weak teach the strong".

Happy holidays and all the best for 2013.

Thanks to all who are, and those who have become a part of the Ahhh...Ras family ... Ras Natango, Ayale, Mark and Frances, Kathi Cooke (priceless), Janet Silvera (the Gleaner), Aceion Cunninghan and Suzette Brown (Jamaica Observer), our local community and all our well wishers ... together we have achieved.