Diana McIntyre-Pike
Founder of Countyrstyle Community Tourism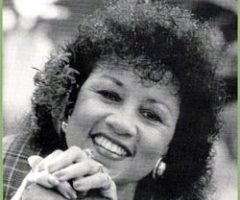 Who is Diana McIntyre-Pike? Perhaps the smile on her face tells you more about her than the long list of her achievements. She has been described as a passionate and loving person, sometimes misunderstood due to her burning desire to help others, and improve the fortunes of Jamaica and the Jamaican people.
She believes that things happen for a reason ... whether good or bad ... and that we should learn and move on stronger with God's guidance.

She formed the first chapter of the "International Institute of Peace Through Tourism" outside of the USA.
She is now a full time Community Tourism Consultant/Trainer and, together with a team of other local and international Consultants, is implementing the VILLAGES AS BUSINESSES program in Jamaica and the Caribbean.
Diana is the President of the "Countrystyle Community Tourism Network" responsible for the training and development of community tourism throughout Jamaica and the Caribbean.
If you would like more information on anything to do with Countrystyle Community Experience Vacations, or if you would like to support Diana's work in promoting Countrystyle Tourism in Jamaica and the Caribbean, you may contact Diana by clicking here.

More About Diana McIntyre-Pike

Share What You Know
Share your story or knowledge and include up to 4 photos if you wish (maximum width 450 pixels).

We will review what you submit before posting it, and iF you submit 300 words or more of ORIGINAL material we will create your web page.
Less than 300 words, or if material is copied from another website, we may use what you have submitted, at our discretion, to update this page.