Goblin Hill Villas at San San
by Rafael de Campos
(San San, Portland, Jamaica)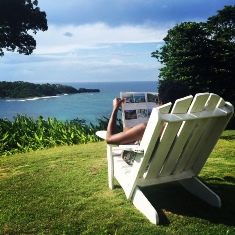 In Portland, Jamaica sits a place where the Blue Mountains meet the Caribbean sea, where coves and sun-drenched beaches beckon, rare hummingbirds dart among the lush tropical flowers, and the sound of Jamaican crickets
lulls you to sleep.
​
This is Port Antonio, where Goblin Hill Villas at San San Bay sits on twelve acres of lawns and gardens, overlooking sparkling Jamaican white sand beaches and turquoise Caribbean water.

One of the most unspoiled corners of Jamaica, Port Antonio is an insider's glimpse into the Caribbean of yesteryear. In its heart, Goblin Hill's villa vacation lifestyle offers the most potent relaxation around.

The spacious villas open onto wide expanses of lawns and gardens. All bedrooms have private bathrooms, air-conditioning and ceiling fans. All are self-contained, with fully equipped kitchens, living and dining rooms, and a wide covered terrace or balcony with its own view over the Bay.

Each villa is staffed with a housekeeper to prepare and serve meals, do your shopping and carry out all housekeeping duties. You will find she is also your unofficial ambassador to Jamaica. Our housekeepers are versatile cooks and can prepare local cuisine, as well as international dishes using locally available produce.

Facilities include a swimming pool and two tennis courts. We are offering an internal entertainment system that allows you to enjoy hundreds of movies of all categories, tv and children shows, documentaries and music.
Our free WIFI cloud allows our guests an easy connection to the Internet.
A white-sand beach (with entrance fee) protected by a coral reef and perfect for snorkelling is a ten-minute walk away. A nature trail around the grounds leads you through a miniature rain forest and over rolling lawns. A reading room, the Hummingbird Terrace and a Tree Bar wrapped around an ancient ficus tree complete the picture of a relaxed vacation resort.


A Few of Our Nearby Excursions
Frenchman's Cove Beach
Perhaps the best known of the beaches, and a sought-after location for many movies, photo shoots and weddings. Many a couple has floated on a bamboo raft down the clear, winding river that runs into the sea, to exchange their vows on the beach. The beach is in a stunning cove, and the water is refreshingly cold where the fresh water enters the sea. Body surfing can be enjoyed when conditions are right. A bar, restaurant and beach chairs are available. The beach is less than a five-minute drive from Goblin Hill. There is a charge for entry.
San San Beach
This is a long, shallow, warm water beach. The upper and middle part of the Beach are quiet and sandy. San San is a good beach for children because the water is almost always calm, and shallow. From the top of the beach, competent swimmers or snorkelers swim out to Pellew Island, better known as Princess Nina's island. The reef stretches in both directions opposite picturesque beach houses on the mainland built into the sea. There is a charge for entry.
Fairy Hill Beach (Winnifred's Beach)
This lovely beach protected by a reef, is somewhere between Frenchman's Cove and San San Beach in character: warm, but not as shallow as San San; and not as much surf as there is at times at Frenchman's Cove. This was the location for a Robin Williams movie, Club Paradise. The beach, which is public, is very popular with local residents as well as visitors, and is maintained by the community. There is a popular restaurant selling fish, chicken and local accompaniments. The beach is about ten minutes driving east, and although not indicated by any signage on the main road, there is a turn off opposite the Jamaica Crest resort, which takes you through a modern housing development, and then downhill to the beach. Drive slowly, or drive a four-wheel drive, or both, as this portion of the road is unpaved. There is no charge for entry, but you will be asked to make a small contribution towards maintaining the beach.
Boston Beach and Jerk Center
Boston Beach, five miles going east, is most famous as the home of the famous Jerk seasoning, which is a major legacy of the Maroons. Maroons were runaway slaves who used the dense vegetation of the mountainous interior to keep the British at bay, eventually negotiated a truce with them, and won a form of self-government. Many of our staff are proud descendants of the Maroons, who still live in the Rio Grande Valley. Wild boar were 'jerked', or cooked in pits underground to prevent the smoke from giving away their location, and the meat was highly spiced and cooked over pimento sticks, which contributes to its special flavor. Jerk is now popular all over Jamaica, and everything can be 'jerked', including pork, chicken and fish. Order a cold beer, soda or coconut water at the same time.
Next to the jerk huts is Boston Beach, a public beach. Once on the beach you will see that it is divided by a promontory. If you wade around it, you will come upon a wider beach. This is one of the few surfing beaches in Jamaica, and the water is very lively, fresh and clean. Some of the surfers offer lessons for about US$30 an hour. There is no charge to use this beach.
Long Bay Beach
Long Bay, going east for about 40 minutes en route to Reach Falls, is a powdery white sand beach, with several casual beachside cottages and restaurants. Be careful: there is also a well-known undertow. Stay close to shore if you swim. This is another public beach.
Reach Falls
Reach Falls is not to be missed. Forty minutes east of Goblin Hill, these are pristine falls, with crystalline pools, hidden chutes and cool waters for swimming in a tropical rain forest. Your guest letter or our map will give you more information about how to reach the falls. This trip could be combined with a visit to Long Bay.
The Blue Lagoon
The deep blue water, its natural underground springs, and the luxuriant, almost primordial vegetation around the Lagoon make it a unique location. It is a fifteen-minute walk down the hill from Goblin Hill. If you are approached by vendors on the road or near the Lagoon and are not interested in making a purchase, a firm but polite "No, thank you" may be required. There is no charge for using the road. At the Lagoon's very end to the right, there is a small pool created where a stream flows in to the Lagoon. The Lagoon is not formally open and is going to be regulated by the Jamaica National Heritage Trust. This will incorporate regularizing of rates, licensing of vendors, and meeting environmental concerns.
​
Rafting on the Rio Grande
Rafting for enjoyment was invented by the actor Errol Flynn after seeing this picturesque means of transporting bananas from the interior valleys to the coast for export on banana boats. 'The Banana Boat Song', with its refrain of "Day-o!", popularized by Harry Belafonte fifty years ago, was adapted from the traditional Jamaican work song of the crews loading the banana boats in the cool of the night, before daybreak. This is no whitewater adventure; you will spend a relaxing two and a half hours gliding down the river on a two-person bamboo raft poled along by a raftsman. Red Stripe or rum punch goes particularly well with this outing. You will find yourself in a tranquil world of limpid pools, bamboo-covered hills, and luxuriant foliage, where in deeper sections you may swim alongside your raft. Halfway down, a lunch can be served on the riverbanks if you order ahead of time. Book your rafting in advance. Reception will be glad to help you.