Jamaican Beef Patties
by Jason Banks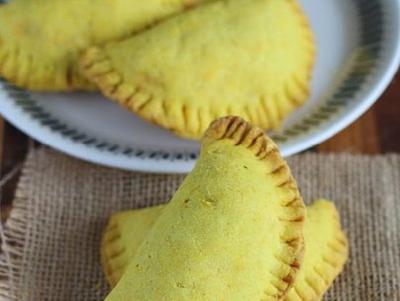 Ingredients
3 cups all-purpose flour
1/2 teaspoon salt
2 tablespoons curry powder
1 cup cold butter or shortening
3/4 cup iced water
1 tablespoon vinegar
2 egg yolks
Egg wash (1 egg beaten with 1/4 cup water)
2 tablespoons peanut oil
1 medium onion, diced
4 sprigs scallions, sliced
1 tablespoon fresh thyme
1/2 teaspoon Scotch Bonnet pepper, chopped
1 pound ground beef
1 teaspoon salt Water
1 cup bread crumbs
Fresh ground pepper
Directions
Combine flour, salt, and curry powder in work bowl of food processor, pulse to combine.
Add the butter or shortening and process until the mixture looks like fine crumbs.
In a bowl combine water, vinegar, and egg yolks.
Add wet mixture to work bowl and pulse until a ball forms.
Cover dough in plastic wrap and let rest in refrigerator for 1/2 hour.
Heat oil in saucepan over medium heat, add onions, scallions, thyme, and Scotch bonnet peppers.
When onion begins to soften, add ground beef, salt, and enough water to barely cover meat, simmer over low heat for 20 minutes.
Add bread crumbs and adjust with salt and pepper.
Allow to cool.
Preheat the oven to 375 degrees F. Roll the dough out to 1/8-inch
thick.
Cut the dough into 6-inch circles.
Place 2 tablespoons of the meat filling onto half of each dough round.
Brush the edges of the dough with the egg wash.
Fold the dough over the filling to make a half moon shape and press to seal.
Place the patties on a parchment lined cookie sheet and place in the oven for 25 to 35 minutes.
***If making the cocktail size, cut the dough into 3-inch circles.