Janga (Cray Fish) Soup
by Tamika Williams
(Camrose, Montego Bay, Jamaica)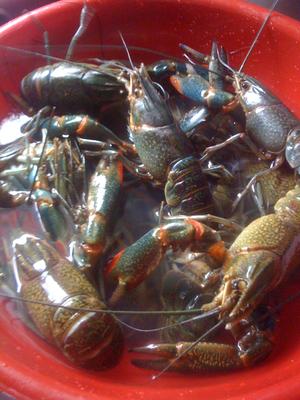 Janga or Cray Fish
A fresh water crustacean related to the lobster
Click other images to enlarge
Cray Fish, called Janga in Jamaica, is a small fresh water Crustacean related to the lobster, otherwise known as Crawfish or Crayfish.

Shrimp can be substituted in this recipe, but Janga has a lot more flavour than shrimp, and stays succulent even when cooked for a long period.



Ingredients
1 lb live Janga (Cray Fish)
1 cup diced yellow yam
2 large carrots cleaned and chopped
1 cup diced pumpkin
1 cup flour
2 sprigs skellion
1 small chopped onion
1 scotch bonnet pepper
1 teaspn brown sugar
1 tblspn margerine
a pinch of salt
2 guarts water
Instructions
Place live Janga in a bowl of clean water. Be careful they nip without warning (makes it worthwhile eating them)
Bring a medium sized pan of water to the boil, add Janga, and cook for approximately five minutes
Remove from boiling water and allow to cool
Make spinners - make a dough with flour and water and roll into long thin dumplings
Place all ingredients in a large pan and cook for approximately 20 minutes.
Turn flame to low then add cray fish, spinners and any additional spices you wish. Do not over cover
Remove from flame and serve hot
Makes about 8 servings.
Enjoy.