John William Maxwell
Journalist and Broadcaster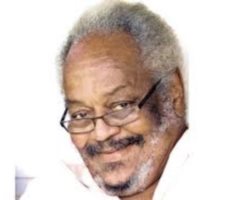 John William Maxwell started his journalistic career in the 50's ... and rapidly became known for his fearlessness in taking on anybody ... including Prime Ministers.
He was a passionate environmentalist, and he fought tirelessly for the rights of those without a voice of their own.
He won many victories ... earned the respect of all well thinking Jamaicans ... lost many jobs as a result of his relentless battles with the status quo ... and he was feared by those with evil intent.
Sadly he passed away on Friday 10th December 2010 at 5.15 pm ... after fighting lung cancer for a few years.
John William Maxwell was born in Duncans in Trelawny ... his father was a politician and Baptist Minister ... his mother one of Jamaica's first fashion designers.

He went to school at Calabar and Jamaica College.
His first job was with the Gleaner where his fearless reputation soon began to build.
After the Gleaner he was Editor of the PNP's Public Opinion magazine.
He then became host of JBC's Public Eye Talk Show ... where ordinary, previously voiceless, Jamaicans could call in and have their voice heard.
Through this show, he was one of those was instrumental in getting a Minimum Wage introduced in Jamaica.
Subsequently, he did a weekly column in the Sunday Observer ... Common Sense ... fighting for freedom in Haiti.
He lectured at the University of the West Indies in Mona, St Andrew training many of our modern Journalists.
His continuous and fearless battle to ensure that the RIGHT thing be done has certainly helped to shape the Jamaica we know today ... and many Jamaicans have a great deal to thank him for.
He was called many things in his lifetime ... a gladiator who used his pen as a sword ... and perhaps my favorite is an exasperated ex Minister of Government, Mr Eli Matalon, describing him as an "Over Educated Rasta".
R.I.P.
John William Maxwell ... A Great Jamaican ... who slaved tirelessly for the welfare of his Jamaican People.