JPS Celebrates Jamaica's 50th
by Tamika Williams
(Montego Bay Jamaica)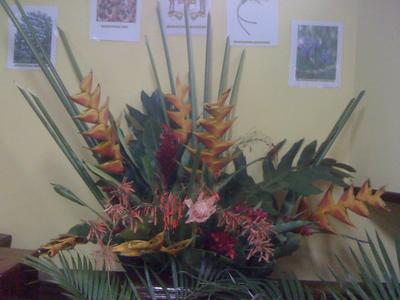 Bouquet Contributed by Ahhh...Ras Natango Gallery and Garden
On Friday July 27, 2012, all Jamaica Public service Parish offices took time out to celebrate Jamaica's 50th year of being independent.

JPS's Bay West office was no exception.
The festivities began at 11 am and showcased so much of the true Jamaican spirit.

As customers paid their bills they were entertained by members of staff and the Hatfield Folk Group.

The Energy Man made from ballons stood guard over the function.

Ms Kathie Cooke was the master of ceremonies and mingled with everyone.

Davon Crump, the current President of the Montego bay Chamber of Commerce, brought greetings from the business community.

Dancing, dialect, folk songs and drumming entertained all, as members of the audience rocked to the beat.

There was coconut drops, pudding and blue drawers served in a beautifully constructed hut made of recycled strips and thatch.

The entire office was decorated in Jamaica's black, green and gold, palm trees and a large bouguet donated by Ahhh...Ras Natango Gallery.

It was a pleasure to take time out to celebrate Jamaica's 50th anniversary with JPS. Felt so proud to be a Jamaican.



Tribute to JPS
Written and read by Tamika Williams at the function
I was born a year before independence, so I grew up in Jamaica when most of Jamaica had almost no eletrical power, even though Jamaica has led the way in electrical energy.
Did you know Jamaica had electricity before New York?
As a child growing up in the sixties I can speak about life without the convenience of power in our homes, which most of us take for granted today.
Imagine going to bed before 8 pm every night because we had to conserve on the kerosene for our lamps.
Imagine getting up at the crack of dawn using lamp light to get ready for school and walking in complete darkness four miles to get to school on time.
Imagine sitting at the dining table doing home work by the home sweet home lamp.
Imagine no air conditioners, no tv, video games, cell phones and the list goes on ... imagine, imagine, imagine.
JPS has had a bad rap over the years regarding dealing with its customers and I am sure the customers all feel justified in their criticisms of JPS.
However today as they celebrate Jamaica's Golden Jubilee I feel compelled to add my voice positively to what JPS has done for my country despite the frequent power cuts.
Every nook and cranny I have travelled to in Jamaica ... and believe me I have travelled all over Jamaica ... and to every community I go to there is electricity.
There are many communities like the one I live in, where we do have electricity, but alas no running water or telephones.
Only recently they have started collecting our garbage, yet JPS was in the community when we moved there 24 years ago.
And even though we receive cellular service, without JPS we would not be able to charge/recharge our batteries.
Again thank you JPS.
Your biggest achievement is bringing power to most if not all of Jamaica, unlike all the other utilities.
The Jamaica I grew up in taught me to be disciplined and responsible and to do without the things I could not afford and this taught me to improvise.
If my powewr has been disconnected, and I cannot afford to pay immediately, I have learned to use kerosene and not "tief de light".
My personal relationship with JPS Montego Bay West, over more than two decades, has been a positive one.
I have had my power disconnected twice and with immediate payment, my power was restored within three hours of me making payment.
I have come in and spoken with representatives when as I teacher I got paid at the end of the month and arrangements were made for me to clear my arrears when I got paid.
I worked as a teacher for over 20 years, always making sure that payments were up to date before a second reading.
Somehow JPS Montego Bay West has the most polite and helpful guards who are the first persons I encounter once I step through the doors.
The cashiers always have a smile for my husband and me, maybe because we are always smiling and wishing them a great day.
All members of staff have been helpful and co-operative.
Others in the service industry can learn a thing or two from JPS Montego Bay West.
The still frequent power cuts frustrate me, but then I remember a time when I lived without electricity in the sixties, when we had to enjoy the moon light.
JPS lights up our homes, hospitals, streetlights and our supermarkets.
Some people prefer to steal electricity and complain about big bills but as a business person I know that I need to collect my income at the end of the day.
I have the advantage of living in an area where every night I see the city of Montego Bay as it lights up and forms a huge map of Jamaica.
Jamaica in lights thanks to JPS.
The next time you use anything electrical ... from switching on a light to walking into an air-conditioned business to get out of the heat ... remember and give thanks for JPS.
There are challenges in everything and every business.
JPS is no exception, but as customers we too have the responsibility to do our part.
JPS be proud as we celebrate Jamaica's 50th.
EVERY business in Jamaica operates because of you.
"Let there be light ... and there was."