Sam Sharp Awards ... The Fantastic Seven
by Tamika Williams
(Ahhh...Ras Natango Gallery and Garden, St James)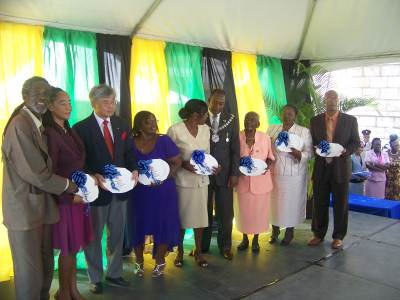 The Fantastic Seven at the Sam Sharp Awards Ceremony
Click other photos to enlarge

Every year Jamaica celebrates her heroes and heroine for a week, usually in the second week of October. The week culminates on Heroes Monday with Civic and Award services in all the parishes across the island.

This year's Sam Sharp Awards in St James saw six individuals and one business receiving national awards in recognition of their outstanding contributions.

Clinton Chin for Community Service
Cleopatra Eubanks for Sports
Pauline Downer for Community Service
Mavia Holt for Education
Gloria Meredith for Community Service
Paul Reid for Journalism
and Ahhh...Ras Natango Gallery and Garden for Tourism
Ian and Tamika Williams received the award on behalf of Ahhh...Ras Natango Gallery and Garden, co-owned and managed by their son Ayale.
Buckingham All Age School celebrated Heritage Week the Wednesday before with students researching and presenting their writings on each national hero and heroine.
Marcus Garvey's quote "Up you mighty race, you can accomplish what you will was highlighted at Buckingham Primary school and also at the Civic& Awards ceremony.
As well as pride in recieving an award, I was proud to see students presenting cultural items, and their readings on each hero/heroine gave me hope for a better future.
The children all delivered themselves well as they represented their school, community and country.
Ahh...Ras Natango Gallery and Garden has been working within the community, and is happy to announce that work has finally commenced on the road leading to the property.
Ahhh... is the flower of Camrose and we are honoured to have been nominated by members of our community, and we take this opportunity to thank the selection committee from the St James Parish Counsel and JCDC for selecting us for a National Award.
We give thanks to our staff who have stood by us even in harsh times.
We give thanks to all our guests who have helped to make us better as we have served you.
We give thanks to Jamaican No problem for giving us this voice.
I give thanks to Ras Natango, my husband, who has been the one keeping the vision alive, and to our son Ayale without whose youth, talent, dedication, motivation and hard work none of this would be possible.
We thank the people of Camrose, and we WILL make a difference as we work to empower ourselves and contribute to nation building.
We at the Ahhh...Ras Natango Gallery and Garden are honoured and humbled.