Scubadoc's Apartments, Montego Bay
by Eugen Kumpfmüller
(Irwindale, St. James, Jamaica)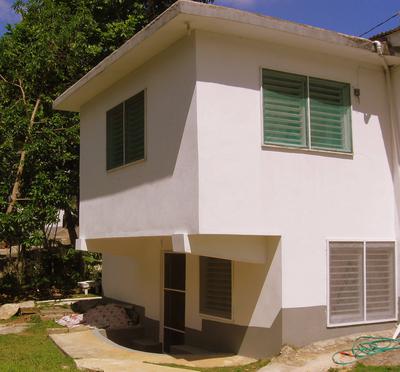 We have one Upstairs & one Downstairs Apartment

A cozy
Hideaway
Under The Jamaica Sun!
We are located in Irwindale, St James, just over 300ft (100 metres) above sea level, and just 20 minutes from Montego Bay's Sangster International Airport, and less than 10 minutes to the Westgate Shopping Plaza.
We have a Guest House with 2 Apartments, one upstairs and one downstairs, set in our lovely gardens, where a variety of fruit trees and flowering plants abound, and where you can see many of our local birds and Butterflies.
Both apartments are equipped with double beds, and one apartment has an additional single bed in the bedroom.
Each apartment has its own entrance, cooking area, bathroom with shower, and veranda.
Each cooking area has a Fridge, Coffee Maker, Toaster and 2 burner Gas Stove.
You can also arrange for us to do breakfast for you.
Our garden is for our registered guests only, and includes a pool and gazebo, which comes with a hammock for you to relax in.
We also arrange comfortable and reasonably priced tours around the island for you.
And we are in close proximity to a number of local attractions such as the Ahhh...Ras Natango Gallery and Garden, the Rastafari Indigenous Village, the Bird Sanctuary, Glistening Waters and the Swamp Safari to mention just a few.
From here you can go easily go rafting, do the Semi Submarine Tour, visit the Pier 1 Restaurant, the Pork Pit Jerk Center, the Houseboat Restaurant, or anywhere else in the Montego Bay area
For more details and to contact us please visit
Scubadoc's website
.
You can also find us on Facebook -
Scubadoc's Facebook page
________________
Doc,

Have been following you on Facebook, and you have a lovely place ... and just looking at the recipes you post makes my mouth water ... your guests must be in 7th heaven, and leave several pounds heavier.

Chris