SUMMER 1964
First Ever Little Miss Jamaica
Crowned First Ever Junior Miss Universe
by Elham Feanny
(Bradenton, Florida USA)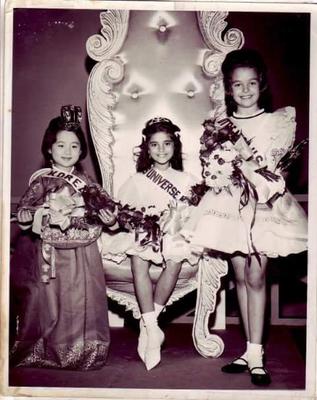 1964 ... First Ever Junior Miss Universe
On the night of the first ever Little Miss Jamaica pageant at the Sheraton Kingston Hotel, Byron Lee and the Dragonaires are entertaining the sold out crowd packed with Miss Universe personnel, American actress Ginger Rogers and US Naval officers from the USS Jamestown, which is docked in Kingston Harbour.

I am crowned Little Miss Jamaica and also awarded Photographers' prize for best eyes.
I had also won the costume contest held earlier at the Regal Theatre.

The Miss Universe Beauty Pageant is searching for a Jamaican beauty queen, and I am sponsored by the US Naval officers and become Miss USS Jamestown.

And, when 300 young international beauty queens meet in Miami Beach, Florida, I ... Little Miss Jamaica ... am awarded the prize for Miss Congeniality, then I am in Top 5, and then I am crowned the first ever Junior Miss Universe.

And on returning to Jamaica a motorcade takes me around Kingston and directly to the home of Sir Alexander Bustamante, Jamaica's National Hero.