Sun Venture Tours
Jamaica
by Robert Kerr
(http://www.sunventuretours.com)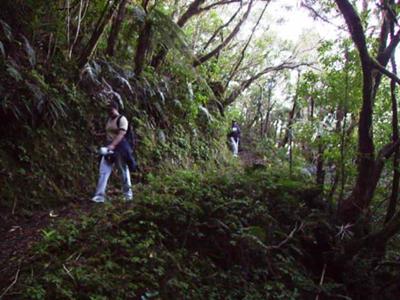 Blue Mountain Peak Trail
Tours for Nature Lovers
Sun Venture Tours Limited is a registered Tour Company with over 21 years experience in exposing locals and visitors to the wonderful heritage that is Jamaica.
We do this with an unswerving commitment to the protection of this heritage, its real and potential value to our country and the rest of the world.
In keeping with this commitment we were given Jamaica's 2010 Ministry of Tourism's "Tourism Recognition Award" for contribution to the conservation of bio-diversity and enhancement of the tourism product.
With over 20 different hiking, sightseeing, educational, adventure and special interest tours we specialize in going to those hard-to-get-to, out-of-the-way nature spots and heritage sites in Jamaica's interior ... or those little known hidden fun places along our beautiful coasts.
Our experienced and professional guides ensure that your trip is a safe, fun filled and interesting learning experience.
So if you want to explore Jamaica, Sun Venture Tours should be your first point of reference for adventure, heritage and nature Tours.
Even if you're not fit enough to climb to Jamaica's highest point, the Blue Mountain Peak, we can recommend and organize exciting experiences and trips to those places that suit your level of fitness and interests.
Explore Jamaica - Our Most Popular Tours
Hiking Tours
Blue Mountain Peak Sunrise
Cockpit Country Crossing 3
Sightseeing Tours
High Blue 102 (Blue Mountain Coffee & Sightseeing Tour)
City (Kingston) Tour (Bob Marley's Legacy and Port Royal)
Adventure Tours
High Blue 402 - Down Hill Bicycle Tour (Hardwar Gap - Irish Town0
Quashi River Sink - Cockpit Country
Heritage Tour
Maroonage - A day with the Maroons of Charles Town
Educational Tours
Recreational Tour
Eastern Escape (Blue Mt. Wilderness Retreat)
Scientific Tour
We offer a full range of vacation services for locals and visitors, so that you can experience a memorable and enjoyable holiday in Jamaica.
Contact us
before you finalize your vacation and let us help you find the most affordable way to enjoy the best of Jamaica.
Let us handle all your vacation or business trip logistics from airport transfer on arrival to hotel, cross island travel or B&B reservations, tours, meetings and special events.
Our
Blue Mountain Wilderness Retreat and Camp
is one of the few true wilderness facilities on the island offering comfort in a wild and natural setting.
Our Project Unit provides the technical expertise in sustainable tourism development projects and operates a rural community development tourism programme in the Blue Mountains involving international and local volunteers.
Other services include talent search and film location management for nature and cultural film productions.
Our extensive knowledge of the island's interior and social network enables us to source and recommend appropriate sites and talent for filming and photography.
Sharing the best of Jamaica to the world in a professional, responsible and caring manner is just one among many reasons why clients choose our services.
Contact Sun Venture Tours