The Children at Buckingham Primary Celebrate Heritage Week
by Tamika Williams
(Ahhh...Ras Natango Gallery and Garden, Camrose, St James)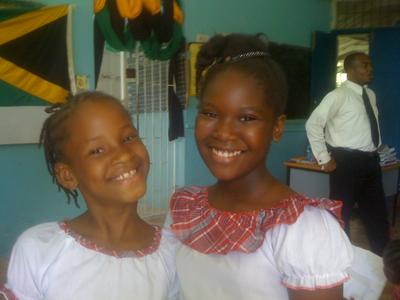 Two little girls give a joint citation on a National Hero
Click other images to enlarge

Buckingham Primary School celebrated Heritage Week on Wednesday October 10, 2012, and students, staff and parents all turned out, as this also marked the start of mid-term.

The programn saw studends performing cultural items, and readings about each hero and Nanny, our lone heroine.

It was an educational and entertaining function.

Each grade performed a cultural item and individual students did selected items.

The parents of the students are to be commended on the large turn out and support as usually on the last day the attendance is small.

The teachers were preparing for their inspection by the Ministry of Education, yet found time to prepare and organize this celebration, of course under the watchful eyes of principal Mrs M. Dixon.


One of the parents, Mrs Shamore Esson, who is a staunch supporter of the school and is actively involved in her chldren's activities, was helping to maintain order and quiet since there was no microphone available on the day.

The children all did exceptionally well, and gave hope for the future. Seeing children between the ages of seven and twelve reading fluently and confidently in front of the school body and parents was so heart warming.

Buckingham Primary in Camrose IS WORKING towards being the change!!