The Making of Moz-Eggs
by Tamika Williams
(Ahhh...Ras Natango Gallery and Garden, Camrose, Montego Bay, St James)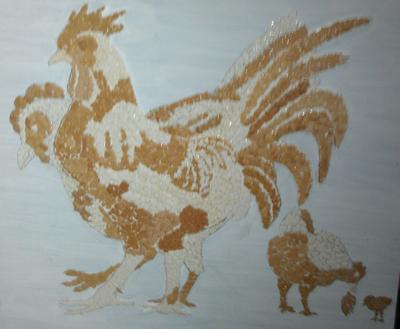 The Unpainted Moz-Egg
Ahhh...Ras Natango Gallery and Garden has several unique items made from materials which are readily available and are recycled.

We are all looking for ways to preserve our environment, and I have been using things others would throw away to create Moz-Eggs and other craft items.

The making of Moz-Eggs is a craft I have been doing for years using eggshells. It's a time consuming process, but a beautiful conversation piece.

The process begins with collecting the used eggshells, they are soaked and sterilized in a solution of bleach and hot water. This gets rid of germs as well as releasing the papery membrane.

The shells are then rinsed in fresh water and put to dry on old newspaper.

A design is chosen, sketched on to hardwood, and each shell is applied one piece at a time using white wood glue which is absorbed into the pores of the shell, and when dried becomes unbreakable.

This process takes at least a week depending on the complexity of the design.

It is then painted with acrylic paint and sealed with a final coat of varnish, giving a 3-d effect when completed.

Baskets of fruits, roosters, hen and chicks, peacocks are just a few of the pieces that can be made with eggshells.

An entire wall in the gallery is dedicated to Moz-Eggs.

Why the name "Moz-eggs"?

In trying to come up with a catchy name for this craft which reminded me of Mosaic (art using broken tile) the name Moz-Eggs just jumped out at me.

They are perfect to hang in one's kitchen or dining room and are a great conversation piece.

Moz-Eggs are only available at Ahhh...Ras Natango Gallery and Garden and the price depends on the size and the subject, ranging from US$15 to US$1500.

To find out more about Moz-Eggs, or to purchase a Moz-Egg, you may send a message to me, or you may call me on +1 876 578 2582.