Ahhh...Ras Flying High ... Up Up Up and Away!
by Tamika Williams
(Ahhh...Ras Natango Gallery and Garden, Camrose, St James)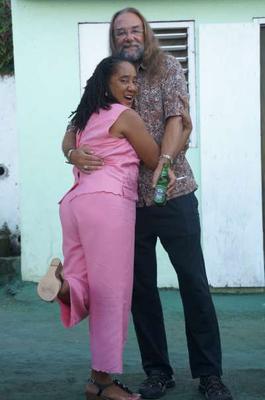 Tamika Williams with new partner Mark Tucci
Friday December 14, 2012 was an exceptional day for Ahhh...Ras Natango Gallery and Garden.

Ras (Ian Williams) celebrated his birthday and Ahhh...Ras Gallery and Garden had its first Press Conference and Cocktail Party.

The purpose of the Press Conference was to introduce Mark and Frances Tucci, along with Ayale Williams, as new partners in Ahhh...Ras Natango Gallery and Garden

Mark and Frances Tucci are long time friends of the Williams family and recently acquired shares in the business.

Ian, Mark, Frances and Tamika were already business partners in Custom Blends Jamaica Ltd so it was natural for them to merge both businesses as well as including son Ayale as an equal partner.

Ayale's dedication has been over and above what anyone could have expected.

Now registered with the Companies Office as, Custom Blends Jamaica Ltd trading as Ahhh...Ras Natango Gallery and Garden, it was our pleasure to make this announcement to the media at the press conference.

A truly inspirational story of hard work, staying the course, believing in one's dreams and rising from the depths of the valley.

The Press Conference was a huge success as all guests invited turned out and participated. The spirit of Ahhh...Ras was evident on the faces of all present.

What better way to welcome the start of the 2012 Winter Tourist season?

Preparations leading to the big day saw every employee (now back at work after being laid off earlier this year) working with renewed vigour and gratitude.

Members of the community of Camrose also shared in the preparations, cleaning up the community square, signing on as casual labourers, and stringing lights to light the entire garden.

Miss Kathleen Cooke of JPS (a close family friend) catered for the occasion and completely outdid herself.

Crackers and cheese, bammy, chicken wings (thankfully Kathi gave me a taste when she delivered the food because I got NONE during the cocktail party), beef meat balls, pina colada bread pudding in cupcake form, and Pimento Liqueur.

I felt totally humbled because as a cook myself I know the love, time, cost and dedication she put into the catering with NO expense to the Gallery.

Then to top it all, at the last minute she was asked to be the Master of Ceremony, and did an amazing job at that too.

Thanks is not good enough Sweet Kathi!!!

Among the guests were, Miss Lilly Thompson (community member and a part of the Cottage Industry run by Ahhh..Ras Natango Gallery and Garden), Miss Beverly Thompson (Community Leader), Suzette Brown (Counsellor in the St James Parish Counsel), Aceion Cunningham (Photographer/reporter), Vanessa & Patrick representatives of Canadian Travel Agencies, Horace Gyles and family (Accountant for Ahhh...Ras), Sandra Bellinfonte and David Miller representing The Jamaica Tourist Board, the Ministry Of Tourism and Entertainment as well as TPDCO, Doc and family (Dock's Hide Away - a bed and breakfast located in the cool hills of Irindale).

Two sisters from the community ages 12 and 10 flipped the switch to light the garden.

A piece of art (Moz-Egg) created from broken egg shells was raffled, all guests wrote their names and placed in a large bottle ... Acion Cunningham was the winner.

We thank all who attended and gave positive comments.

Later this week the latest asset of the business will be revealed.

On Monday December 24, 2012 Ahhh...Ras Natango Gallery and Garden will exhibit some of its art at the world famous Tryall Golf Club.

Special thanks to Chris of Jamaica No Problem for encouraging me during the darkest hours. As busy as I might get I will always include JNP .

Happy Holidays to all and a PROSPEROUS New Year!!!!

The partners Ian, Tamika & Ayale Williams, and Mark & Frances Tucci. express their appreciation to all and request that you spread the word about this true Jamaican experience.