Rudy Mantel
Jamaica Air Taxi

A graduate of Georgia Tech, Rudy Mantel served in the U.S. Air Force.

In 1958 he was a copilot on a cargo plane flying tropical fish from Colombia to Florida which stopped in Montego Bay to refuel. That first glimpse of Jamaica was enough.

Rudy promptly quit his job and returned to Jamaica in late 1958 to investigate if there was scope for for establishing an air taxi.
He decided that there was, and with the help of Murph Dullum and Sammy Henriques he was able to obtain an air taxi license from the Civil Aviation Department.
Thus in early 1959 Jamaica Air Taxi (JAT) was born, with a leased Stinson V-77 Reliant.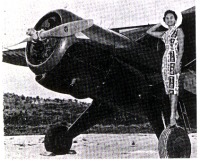 The Stinson was a delightful airplane - stable, comfortable, forgiving, and good short-field performance. Delightful in every respect except speed, which in Jamaica wasn't all that important.
Rudy Mantel operated JAT for several months in early 1959, but then the Air Registration Board (ARB) wanted too much expensive work performed on the Stinson.
At this time Jamaica was still a British colony, and ARB was the British airworthiness authority whose surveyor visited Jamaica every few months. The ARB became the Civil Aviation Authority (CAA) and remained the airworthiness authority of Jamaica under contract to the JA government. 
En route to return the Stinson to its owner in New Jersey, he landed at Zahn's Airport on Long Island to look at another airplane. His wife Jane was with him.
Shortly after takeoff from Zahn, at about 400 ft, the engine began to backfire badly and lost almost all power. He racked it around in a 180 turn and landed back on the runway downwind.
There are not many planes that would allow you to do that.
Understandibly he was somewhat relieved that this hadn't happened over the water between Jamaica and Florida.
Jamaica Air Taxi was put on hold temporarily, and he flew for Robin Moore (Tropicair Ltd.) until early 1960. Tropicair had a Helio Courier, an Apache, a Tri-Pacer and a Piper Clipper.
Robin, whose father was Chairman of Sheraton, was in Jamaica getting permits to build the Kingston Sheraton Hotel.
Robin later went on to become a successful author of several best-selling novels including The French Connection, Green Berets and The Happy Hooker.
The manager of Tropicair was an American ex World War 2 pilot, Bob Morrow who later left for the Middle East. The working pilots were Rudy and Kelly Sigarny who subsequently became an Air Traffic Controller in Miami.
For a while Rudy also worked with Danny Ennevor who had an Apache.
In 1960 Rudy Mantel was appointed Cessna dealer for Jamaica.
He bought his first Cessna 180, and re-activated Jamaica Air Taxi.
As Cessna dealer, over 40 new Cessnas airplanes were sold in Jamaica.
In 1962 Rudy purchased the air taxi business of Earl Gardner, a friendly competitor who wanted to retire.

Earl was a Seventh Day Adventist missionary living in Mandeville, who pioneered the use of small airplanes for transportation in Jamaica, flying people like Harold Cahusac of Frome, Alcan personnel and many others in the sugar and mining industries.
Over the years JAT continued to grow, providing air transportation to the bauxite /alumina and sugar industries as well to local businessmen and tourists.

In 1973 JAT began scheduled airline services linking Mandeville with Montego Bay and Tinson Pen in Kingston , and a twin-engine 9-passenger Britten Norman Islander was purchased for this service.
In 1974, when the local scheduled airline Jamaica Air Service went belly-up, a partnership between Rudy Mantel and the Jamaica Goverment gave birth to Trans-Jamaican Airlines.

Rudy agreed to serve as Managing Director for at least 5 years, and Jamaica Air Taxi, became part of Trans-Jamaica Airlines. In 1980 he exercised an option to sell his shares to the Jamaican Goverment and returned with his family to the Florida. But he remained on the Trans Jamaica Airlines Board of Directors until 1989.
Since then Rudy Mantel has worked as an aviation accident investigator and adjuster for various London insurance companies, and in 1992 began producing Forensic Animations.
He was one of the earliest producers of forensic animations for the legal profession, and has produced animations for leading civil plaintiff and defence attorneys, State Attorneys, criminal defence attorneys, the Florida Department of Transportation and major firms including Motorola, Goodyear, Federal Express and Oceaneering Technologies (a contractor for the U.S. Navy).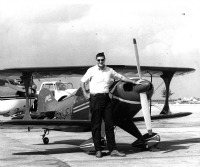 Rudy Mantel, beside his little Pitts Special Aerobatic (circa 1970), has over 16,000 hours flying time and holds Airline Transport Pilot and Aircraft & Powerplant Mechanic Licenses.
He continued to fly regularly until about a year ago, but now rarely flies due to a sore back which makes it difficult for him to get in and out of small airplanes.
Discover More About The History of Aviation in Jamaica

If you are interested in reading more about the history of aviation in Jamaica please purchase the book Pieces of the Past: A Stroll Down Jamaica's Memory Lane from Amazon.com, or from Amazon.co.uk.

Would You Like to Tell Us More About Rudy Mantel?

If you just want to make a short comment please scroll down to the comments section, otherwise ...
Share What You Know
Share your story or knowledge and include up to 4 photos if you wish (maximum width 450 pixels).

We will review what you submit before posting it, and iF you submit 300 words or more of ORIGINAL material we will create your web page.
Less than 300 words, or if material is copied from another website, we may use what you have submitted, at our discretion, to update this page.