South Africa Congratulates
Tamika Williams
of Camrose Village
by Don Leffler
(Durban, South Africa)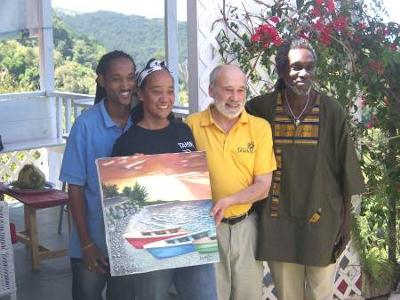 Ayale Tamika and Ian Williams with Louis D'Amore
In February when CCTN South Africa visited Camrose Village in St James, Jamaica, we met a very special lady, Tamika Williams, and her family.

It was an emotional journey for many of the CCTNSA team, and also for IIPT's President, Louis D'Amore. Our visit left all of us with lasting memories of the spirit and will of human nature.

Tamika opened her home and heart to us South Africans and we thank her, and her wonderful family, for treasured memories.

We all congratulate Tamika on her nomination for the Environmental Foundation of Jamaica Champion Environment Teacher Award. This is a very well deserved acknowledgement of all that Tamika nurtures and teaches.

To Tamika Ian and Ayale we send warm South African greetings !!!!

One Love,

Don, Mapula, Victor, Louw, Nikki, Glendyrr, Adriana and Bernadette

http://www.cctnsa.co.za
http://www.thsbs.com

________________________________________________


Thanks CCTN South Africa
Thank you all for your congratulations and wishes.
Jamaicans by nature are friendly.
We all have stories of our life's experiences, and we all have to find a way of leaving hardships behind us, and "
Unearthing the Diamond
" within ouselves.
Environmental Awareness is a way of life for me.
We can all make a difference. One person at a time.
Camrose Community thanks you, and we enjoyed having you visit.
Tamika Williams
Ahhh...Ras Natango Gallery and Garden