Blue Moutain Peak
An Unforgetable Climb

Climbing to the top of Blue Mountain Peak is a truly unforgettable experience that relatively few visitors experience. At an altitude of 7402 ft the views are breathtaking. Birdwatchers will enjoy the variety of birds. Photographers will be rewarded with an unforgetable collection of photos ... the wildlife, the spectacular views, the scenery and the plant life.
Because of the cold climate the plants in the Blue Mountains are often dwarfed, and many can not be found anywhere else in the world. And wherever you stay in the Blue Mountains coffee lovers can sample some genuine Jamaican Blue Mountain Coffee.
To have experienced it once was great, a second time with over twenty friends was fantastic, and a third time with just my family ... "Give Thanks" as we say in Jamaica. Who knows, maybe I still have one more trip left in me. 
On all three occasions I have driven from Kingston to Whitfield Hall the afternoon before, and hiked from there on up starting at around midnght, and timing the climb to reach before sunrise, but there are many other places you can stay.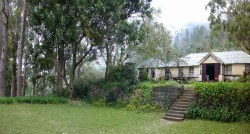 Whitfield Hall is about 4200 ft up, and depending on how many people there are in your party and how fit they are, the climb will take between three and six hours. Guides are available and recommended. Do not contemplate doing this on your own, because unless you know where you are going you can easily get lost. 
So sometime between 11.00 pm in the evening and 2.00 am in the morning you are going to set off with your guide, and when you finally reach the Peak you can relax, wait for the sun to come up and hope that the views aren't obscured by mist or low lying cloud. There is a very basic hut at the top, that provides some shelter, where you can drink some of that warm coffee you brought with you in a vaccuum flask.
On a clear morning you will see some breathtaking views of the North and South coast ... and maybe even Cuba 90 miles to the north. Then when you are ready, back down the trail.
On my first climb to the Peak there were only two of us, and we took just under three hours.
For my second climb there were over twenty in the party - a real friends and family affair. We ended up carrying the younger ones on our shoulders for a good part of the six hour climb.
My third climb ... my wife, her mother, two sons and Titus, and our German Shepherd ... took about four hours.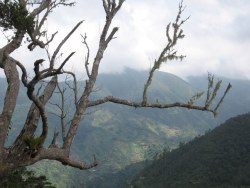 Going back down in daylight you can enjoy some spectacular views, and feel very grateful that you came up at night when you couldn't see how steeply the mountain drops away from the trail in places. 
A truly unforgettable experience that relatively few visitors experience.
To write a review or just tell YOUR story  scroll down below the comments section.

Tell Us About Your Climb to Blue Mountain Peak
Share Your Experiences or Your Knowledge
Do have any interesting experiences, or do you know anything unusual and interesting that will be of interest to other visitors to our site?

Submit a unique article/story of 300 words or more, with up to 4 photos, and we will make it into YOUR page.

Unfortunately we cannot use less than 300 words, or material copied from another website.

The horizontal box below will expand when you start typing, so just start by entering ...