YS Falls

in St Elizabeth
The YS Falls are a series of seven spectacular waterfalls on the YS Estate in St Elizabeth, with several natural pools for swimming, and immaculately kept gardens.
The estate is a private stud and cattle farm, and you will not suffer the harrassment you get at other falls since entrance to the falls is strictly controlled and limited to prevent overcrowding.
There is a gift shop and cafe on the public road, where you park, and then embark on a 10 minute Jitney ride, through pastures with Jamaica Red cattle, up to the falls.
In addition to swimming the more adventursome can do the Canopy ride, gliding from the top of the falls to the bottom. And then there is river tubing.
The staff are experienced, extrememly polite, friendly and helpful.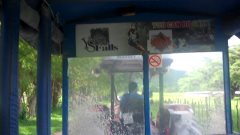 A short ride on this tractor drawn jitney takes you from the entrance through lush pastures up to the falls, and then back when you have finished.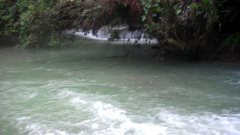 The YS river runs through the YS Estate on it's way down to join the Black River. Here at the falls there are many pools in which you can swim, and there is also a shallow children's pool.
Highly experienced and sure footed guides will safely take you on a walk around the falls.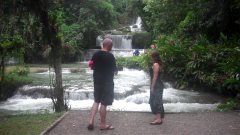 Looking up the falls from the bottom, and it goes much higher
From the top you can take the Canopy ride back down to the bottom of the falls.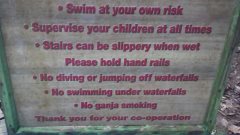 This sign caught my eye ... "No Ganja smoking".
Swimming at your own risk is pretty safe as there are qualified life guards on hand all the time
Many tour operators group YS Falls and the Black River Safari in a one day tour, but there are so many other places to visit in this area that it is worth spending a few nights so that you can see all the sights.
You can check our Treasure Beach Hotels page for accomodation, and Black River has some guest house accomodation. otherwise the Countrystyle Community Tourism Network can help to find suitable accommodation ... you can contact them here.
Would You Like to 
Write a Story About Your Experiences
Share your experiences, or write a review, but please ...

Firstly - your submission must be 300 words or more.
Secondly - it must be your ORIGINAL material, and must not be copied from another source and pasted here.

You can include up to 4 original photos, but please resize them to a maximum of 450 pixels wide before trying to upload them ... paint.net or picmonkey.com can be used to resize photos.


The horizontal box below will expand when you start typing, so just start by typing ...