Villa Fair
A Collection of Short Stories
by Bernadette Gabay Dyer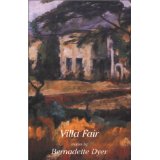 Villa Fair is a collection of 13 short stories by Bernadette Gabay Dyer.
The main characters come from various ethnic backgrounds and classes, and reflect many of the stories and experiences Bernadette has been exposed to.
Does Bernadette's choice of 13 stories give any clue as to the general theme of her book?
The jacket for Villa Fair is designed from a painting by the famous Jamaican painter Barrington Watson.
Ackee Night in Canada
Her man has been threatening to leave her for years.
She calls on her knowledge of Jamaican culinary secrets to keep her man from going to another woman.
Man Man
Set on a typical but mythical Caribbean plantation back in the olden days.
But the young black boy "Man Man" who roams the property is in no way typical.
And he notices everything that goes on.
One day he sees the arrival of a new mistress.
What will this all mean for him?
Six Little Sparrows
A story about six Pakistani children and their mother.
Close The Blue Door
Set in an unnamed Caribbean island, a fair-skin grandfather firmly believes that his granddaughter is part Mermaid.
He is convinced that because their home is close to the river his daughter has mated with a Merman.
When still a young teenager the granddaughter meets an old East Indian woman who tells her about father.
Peaches and Creame
Set in Toronto about some Jamaicans who run a variety store.
Johns Lane
Set in Kingston Jamaica, three Chinese sister are taken to live with grandparents they don't know.
Although the grandparents are poor, they are willing to share what little they have with their grandchildren.
Their daughter, the mother of the children takes off to parts unknown ... probably with one of the many men in her life.
An African Out in the Cold
Jomo, an African, is lost in a strange and large city when he visits Toronto, and his host suffers a heart attack.
Segovia Stories
Carlos Fernandez Segovia tells fantastically concocted stories about everything.
Villa Fair
The title story is set in a mythical unnamed Caribbean island.
What happens to Thunder, the main character, when he breaks his promises?
Driving Through Red Lights
An East Indian family living in Canada, tries to arrange a marriage for their daughter.
But the daughter, who was born and raised in Canada, is in love and refuses to entertain the idea of an arranged marriage.
She surprises both her parents and the reader when she ...
Remembering Serge
Memoirs of Bernadette's experiences living at Serge Island Estate.
Roberta On The Beach
The story of a mixed race large Jamaican family who live on the edge of poverty.
One of the daughters, Roberta, is unlike her darker brothers and sisters. Roberta has light skin and red hair.
She gets an opportunity to go to England to study nursing.
While there she meets a young English man who is interested in her.
But Roberta's shame of the poverty she left behind, causes her to fabricate much of her past.
Leaving Faro
A Portuguese Jewish family comes to Jamaica fleeing from persecution in their own country.
If you would like to read these stories, you can purchase Villa Fair at Amazon US, UK or Canada.