Bernadette Dyer
A Jamaican Author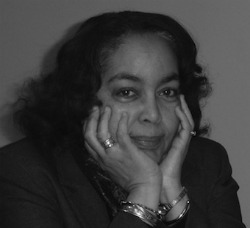 Bernadette Dyer, or Bernadette Gabay Dyer as she is known in literary circles, now lives in Toronto, and is one of the Jamaican authors featured in "Who's Who in Black Canada". She was born in Kingston Jamaica in a small hospital called St. Helena's, located in a part of the city known as Cross Roads. 
Her parents, Edmond and Irene Gabay from Montego Bay, were working and living at Serge Island Estate in St. Thomas at the time, and it was a long journey to get to the hospital in Kingston.
The daunting prospect of having their seventh child must have kept their minds occupied, and they probably gave no thought to views of the the blue sea that winked from behind lush foliage, the purple tinged Blue Mountains, the tall coconut trees, or many other fruit laden trees that they passed on that journey.
Growing Up in Jamaica
The first six years of her life were spent on the Serge Island Estate ... named an island because it was surrounded by two rivers, the Johnson River and the Negro River.
The Gabays lived in a large bungalow with a huge garden, and were privileged to have servants, nursemaids, and gardeners. Her father Edmond was the accountant for the estate, and her mother Irene also worked as a part time bookkeeper.
It was an idyllic existence for a child who spent her time chasing colourful butterflies, visiting cow pastures, admiring the horses the Busha's rode, but having to be satisfied with taking donkey rides instead, and like most children, Bernadette was fascinated with the river, the old unused railway cars that stood on derelict track, and the factory where sugar was produced.
Bernadette was schooled by tutors who came to the house to teach the younger children, while the older children were sent off to boarding schools in Montego Bay and Kingston, and from an early age she was exposed to stories told by the servants, the field hands, and just about anyone who passed through.
Her family moved to Kingston when she was seven, where at first she attended the St. Elizabeth's Church Prep School, run by two half Chinese sisters "Big Miss Young" and "Little Miss Young".
Then she attended Immaculate Conception High School, an all girls school with students from diverse ethnic and social backgrounds. She enjoyed the very orderly and religious existence there.
Bernadette's father passed away on the day that she graduated from Immaculate Conception, and it was her mother who then financed her attending the Jamaica School of Arts and Crafts.
Moving to Canada
After graduating, Bernadette Dyer worked briefly at The Jamaica Library Service as a Display Artist, but by that time Bernadette's mother had migrated to Canada to help her brother and his wife with their small children. So a year or so later, in the late 1960's, she decided to join her mother in Toronto in Canada, where she trained as a kindergarten teacher at the Lakeshore Teacher's College.
After working at a few clerical jobs, she successfully applied for a job with Toronto Public Libraries, where she has pioneered a Baby program in the Library's South Region.
She became Bernadette Dyer when she married Irish Canadian Terry Dyer in the early 1970's and they have three children.
Becoming an Author
In her spare time Bernadette Dyer began to write stories, but she kept these to herself, perhaps because of a certain shyness. But she finally mustered up the courage to send one of her short stories to a Writer in Residence at the Library, who was very encouraging about her work.
This inspired her, and she began to write poetry, fiction, and plays. And she also became a puppeteer, and a Storyteller.
She has even done a studio recording of her original songs Two Little Bears and Other Songs, aimed at babies, but her art training has been put on the back burner.
Bernadette soon began to get her work published in literary magazines, and when she had a collection of short stories she began sending them off to publishers.
Her short story collection Villa Fair was published in 2000 by Beach Holme Publishers in Vancouver. A few years later, in 2004, her novel Waltzes I Have Not Forgotten was published by the Women's Press in Toronto, under her literary name Bernadette Gabay Dyer. Abductors, a Science Fiction novel for young adults, followed in 2007, published by Rain Publishing.
Bernadette's poems include Dying in Peru and Mermaid.
In 2006 Bernadette Dyer was honored to be amongst the authors interviewed in the book Why We Write, published by TSAR Publications.
She has done readings of her own and other stories in Vancouver, Montreal, Toronto, Ottawa, Kingston Ontario, and on CBC Radio. Fiction Fantasy and Tabix is a radio play that she wrote for kids aged ten years and older
And one of her short stories Return to Heliconia Hall will be included in the upcoming anthology "Beyond Sangre Grande" to be published by TSAR Publications and edited by Cyril Dabydeen.
Bernadette still works in the Toronto library system, and still continues to write.
Dana Harris of Kingston, Jamaica says "Bernadette and I grew up on the same road after the family moved to Kingston from St. Thomas. As our surnames were Gabay we considered ourselves Family. We always admired Bernadette's art when we were children. I wish her all the success in her writing."

About Bernadette Gabay Dyer

Share What You Know
Share your story or knowledge and include up to 4 photos if you wish (maximum width 450 pixels).

We will review what you submit before posting it, and iF you submit 300 words or more of ORIGINAL material we will create your web page.
Less than 300 words, or if material is copied from another website, we may use what you have submitted, at our discretion, to update this page.

What Other Visitors Have Shared
Click any link below to see what information other visitors have shared ...

Poems - Mermaid
Joseph, don't wake the dogs Don't send them scampering Across this parched hot land, For it is dangerous and dips into steep ravines Where winds …
Poems - Dying in Peru
Seven young men Have died in Peru Were you there that night in Lima When the dancing started And street lamps burned low, And the hand clapping …